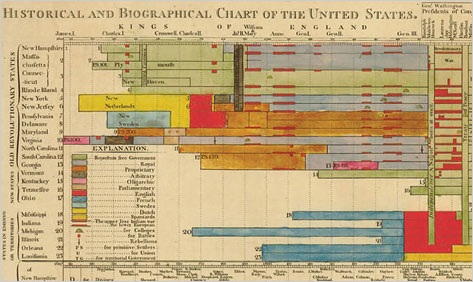 Think about time and what comes to mind is probably not the abstract, directionless element in which you swim but time made concrete: the pages of a calendar, sand sifting through an hourglass, the sweep of the hand around a clock. At school, you drew a line across a sheet of paper and ticked off the dates of wars and inventions and presidents' terms. But what we think of as a humble procession of names and dates stripped of historical narrative and meaning was once "among the most revered of scholarly pursuits," write historians Daniel Rosenberg and Anthony Grafton. Tracing time's arrow on the page has long been an essential way of understanding the relationship of the past and present.
Rosenberg and Grafton's generously illustrated book investigates the ways that time has been represented graphically. They begin in the fourth century with the theologian Eusebius of Caesarea's Chronicle, a lengthy register of important dates that placed the story of Christianity — and Rome's domination — in the context of the histories of other nations. Significant advances in the development of the timeline are carefully explained, including Gerardus Mercator's incorporation of astronomical data in the fifteenth century and the eighteenth-century scientist Joseph Priestley's simple but groundbreaking charts of history and biography, which made the grand sweep of time immediately visible on a single page.
Cartographies of Time is at its most entertaining, though, when the authors highlight the inventive and sometimes eccentric ways time has been mapped, packaged, and sold. In the 1840s a French Canadian priest converted natives with his Catholic Ladder, a long scroll that used pictographs to mark events in the history of Christianity, and that was soon countered by a missionary's Protestant Ladder. Mark Twain, an erstwhile inventor, took out a patent for a rather dry looking game which he called a "memory-builder," in which players who could accurately cite event dates collected points by pushing pins into a sheet of paper.
Even the simplest records of time collected here can be visually arresting. A German seventeenth-century textbook writer turned allegorical figures — a bear, an oil jar — into historical maps, sprinkling the images with names, dates, and illustrated vignettes. A historical atlas published in 1828 visualized man's knowledge of the world by a sequence of maps that shrouded as yet unknown geography in stormy black clouds. Rand McNally's brightly colored Histomap, created by a factory manager who read history books on long business trips, looks like a work of outsider art.
Rosenberg and Grafton wind up their narrative with two recent timelines, created by museums on either side of New York's Central Park (and both, interestingly, funded by the same patrons). The Harriet and Robert Heilbrunn Cosmic Pathway at the American Museum of Natural History allows visitors to grasp "big time" by physically walking along a marked spiral. The average adult can cover six million years in a single step. Meanwhile, the Metropolitan Museum of Art's Heilbrunn Timeline of Art History is located in virtual space, on the Internet. Its catalog of two million artifacts is constantly expanding and infinitely expandable — like time itself.
---
Peter Terzian is the editor of Heavy Rotation: Twenty Writers on the Albums That Changed Their Lives. His music blog, Earworms, can be found at peterterzian.wordpress.com.