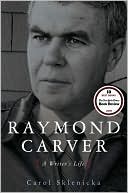 May 25: On this day in 1938 Raymond Carver was born in Clatskanie, Oregon, the family moving three years later to Yakima, Washington, where Carver grew up. Carver's autobiographical essay, "My Father's Life," describes the sort of challenges that reappear in his acclaimed short stories: the grind of poverty, the collapse of love, the ruin of alcohol. Especially, and from early on, the alcohol; the following lines are from "Luck," a poem in which a nine-year-old wakes to an empty house and the leftovers of his parents' party:
…What luck, I thought.

Years later,

I still wanted to give up

friends, love, starry skies,

for a house where no one

was home, no one coming back,

and all I could drink.
What It Used to Be Like, Maryann Burk Carver's 2007 memoir of her twenty-seven-year marriage to Carver, documents the couple's alcoholism and the attendant problems. One Carveresque moment near the end of the book — both of them in new relationships now, Carver dead in two years from lung cancer — describes a meeting at Rose's Cantina, where they have arranged to eat and exchange Christmas presents:
Before Ray and I had gone into Rose's, I had watched from my car as he parked his. He got out and, carrying presents, walked over to mine and got in. He hugged me; for five minutes he hugged me. When he finally let me go, Ray took a deep breath, slowly exhaled. The air from his lungs sounded how I imagined the valves of a dirigible release. I could feel his tension.

"Relax, Ray," I said, "I'd like to see you relax."

…Ray nodded. We made some small talk sitting together in the car as he toyed with the loosely tied belt of my dress. Casually, he slipped it off and put it in his coat pocket. I didn't say anything. He wasn't being aggressive or flirtatious. No, I think, he was calming himself, the way he used to with that first cigarette. The dress would be pretty unpresentable without the red silk belt…. But I let him have it.
They drink only Perrier at dinner. Under the table, he takes her feet in his hands, as he had done their first summer. She says she has to go, her dog is at the vet's.
---
Daybook is contributed by Steve King, who teaches in the English Department of Memorial University in St. John's, Newfoundland. His literary daybook began as a radio series syndicated nationally in Canada. He can be found online at todayinliterature.com.