Desert island reading. Literally.

---
By Katherine Frank
A biography of a book nearly as compelling as its astonishing original, Crusoe traces the intertwined lives of Daniel Defoe, the man who published Robinson Crusoe in 1759, and Robert Knox, the man who author Katherine Frank argues was the "real" Crusoe. Knox's tale of island survival is gripping — but no more so than the story of how Defoe battled illness and political controversy to write the book often called the first English novel. His magnum opus has since birthed many imitators and homages: one recent standout is Crusoe's Daughter by Jane Gardam, in which the castaway becomes a metaphor for young Polly Flint's emotional and geographical isolation in a small cabin on the northern coast of England.
---
By Emma Pearse
When Jan and Dave Griffin's Australian cattle dog was swept overboard in a storm on the edge of the Great Barrier Reef, her owners were devasted. Surely she'd drowned? Little did they know, Sophie swam six miles through shark-infested waters to remote Keswick Island. When food and water proved scarce, she took to the water once again and swam to nearby St. Bee's island, where she survived on her own for five months before being rescued and reunited with the Griffins. This is Sophie's incredible true story of canine fortitude and magical good fortune. Animal-lovers and adventure enthusiasts alike will find themselves cheering as she makes her determined way home.
---
By Yann Martel
Heard the one about a 16-year-old zookeeper's son who finds himself adrift on a lifeboat in the Atlantic Ocean with a hyena, an orangutan, a wounded zebra, and Richard Parker, a 450-pound Bengal tiger? As his fellow shipmates are consumed one-by-one by the jungle cat, the only thing that saves young Pi from becoming dinner is his understanding of animal behavior. Martel spins a transcendent yarn in this award-winning, international bestseller that braids deep questions about human nature and faith into a tale that celebrates the lifesaving power of stories themselves.
---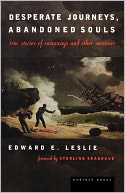 Desperate Journeys, Abandoned Souls
By Edward E. Leslie
Curl up in a cozy chair with this collection of true stories of disaster — from 16th-century shipwrecks to 20th-century plane crashes — and unlikely survival. Many of these narratives have given birth to classics of adventure literature, whether it's John Knowles' account of killing game with his bare hands (which would later inspire Edgar Rice Burroughs to create Tarzan of the Apes) or the brutal tale of Alexander Selkirk's survival, one of the competing sources for Robinson Crusoe. The power of the natural world and human endurance in the face of overwhelming odds combine to drive plots that never lose their hold on our imaginations.
---
By Johann David Wyss
Castaway narratives are often those of solitary individuals struggling with loneliness and despair as much as starvation. Think of Ben Gunn, driven mad when he's marooned alone for three years on Treasure Island, or Crusoe's own bouts of madness, alleviated only when he rescues Friday. But Johann David Wyss, inspired by Defoe's novel, sought to write an adventure in which his sons could also play a part. The result was The Swiss Family Robinson, in which a couple and their four boys are shipwrecked on a remote island. A classic of children's literature, the story of their survival is spellbinding, especially the enormous and elaborate treehouse they construct as their new home.