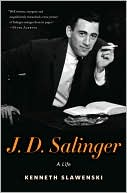 J. D. Salinger's Catcher in the Ryeturns sixty today. The novel was immediately popular, and not just with bestseller buyers and book-of-the-month subscribers. William Faulkner ranked Catcher in the Rye as the best novel by the new generation of writers, and described Holden as a modern Huck Finn, the difference being that Huck, after withdrawing from humanity, returned to it:
[Holden's] tragedy was that when he attempted to enter the human race, there was no human race there. There was nothing for him to do save buzz, frantic and inviolate, inside the glass wall of his tumbler, until he either gave up or was himself, by himself, by his own frantic buzzing, destroyed.
The novel's success accelerated Salinger's own withdrawal–from the interviewers who wanted to Holden-ize him, from constantly "bumping into that blown-up photograph of my face on the back of the dust-jacket," from the critics and foreign publishers who just didn't get it. In the last group was the Israeli publisher that wanted to call the book "I, New York and All the Rest" because Salinger's title made little sense when translated into Hebrew. But this was decades later–1974, the same year that John Updike quipped, "J. D. Salinger wrote a masterpiece, The Catcher in the Rye, recommending that readers who enjoy a book call up the author; then he spent his next 20 years avoiding the telephone."

Many of the details above are taken from Kenneth Slawenski's J. D. Salinger: A Life (2010). Slawenski concludes his chapters on The Catcher in the Ryewith several paragraphs on two other developments from 1951 "that would affect Salinger for years to come," and affect any attempt to piece together his personality. One was his romance with the sixteen-year-old who became his first wife and the mother of his two children; the other was his intensifying interest in those Buddhist texts that would color many of his relationships and encourage his further withdrawal.
---
Daybook is contributed by Steve King, who teaches in the English Department of Memorial University in St. John's, Newfoundland. His literary daybook began as a radio series syndicated nationally in Canada. He can be found online at todayinliterature.com.