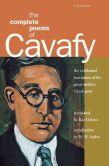 The Greek poet Constantine Cavafy was born on this day in 1863, and he died on this day in 1933. A career civil servant, Cavafy wrote only some 150 poems, most of these almost unknown beyond his circle of friends and writers in Alexandria, Egypt. E. M. Forster, who was part of that circle for a time, introduced Cavafy to the world in a 1919 essay which famously described him as a "Greek gentleman in a straw hat, standing absolutely motionless at a slight angle to the universe":
Yes, it is Mr. Cavafy, and he is going either from his flat to the office, or from the office to the flat. If the former, he vanishes when seen, with a slight gesture of despair. If the latter, he may be prevailed upon to begin a sentence—an immense complicated yet shapely sentence, full of parentheses that never get mixed and of reservations that really do reserve; a sentence that moves with logic to its foreseen end, yet to an end that is always more vivid and thrilling than one foresaw…. It deals with the tricky behaviour of the Emperor Alexius Comnenus in 1096, or with olives, their possibilities and price, or with the fortunes of friends, or George Eliot, or the dialects of the interior of Asia Minor.
Wendy Moffat's A Great Unrecorded History: A New Life of E. M. Forster (2010) emphasizes the impact of Cavafy's unusual personality and lifestyle: "He was palpably artificial, and palpably homosexual. And he was utterly intoxicating to Forster." W. H. Auden, also a fan, helped to spread Cavafy's reputation in the West by introducing one of the first English editons of his Complete Poems. Cavafy found new readers recently when Leonard Cohen turned his poem "The God Abandons Anthony" into "Alexandra's Leaving" (Ten New Songs, 2001); below, excerpts from both, Cavafy first:
When suddenly, at midnight, you hear
an invisible procession going by
with exquisite music, voices,
don't mourn your luck that's failing now,
work gone wrong, your plans
all proving deceptive—don't mourn them uselessly.
As one long prepared, and graced with courage,
say goodbye to her, the Alexandria that is leaving.…

***

Suddenly the night has grown colder.

Some deity preparing to depart.

Alexandra hoisted on his shoulder,

they slip between the sentries of your heart.

Upheld by the simplicities of pleasure,

they gain the light, they formlessly entwine;

and radiant beyond your widest measure

they fall among the voices and the wine.

lt's not a trick, your senses all deceiving,

a fitful dream the morning will exhaust—

Say goodbye to Alexandra leaving,

Then say goodbye to Alexandra lost….
---
Daybook is contributed by Steve King, who teaches in the English Department of Memorial University in St. John's, Newfoundland. His literary daybook began as a radio series syndicated nationally in Canada. He can be found online at todayinliterature.com.