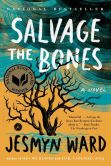 On Tuesday, April 23, I'll be handing out twenty copies of Jesmyn Ward's National Book Award–winning novel, Salvage the Bones, as part of World Book Night. What began in Spain circa 1923 as a festival to celebrate the anniversary of Cervantes' death was adopted by UNESCO in 1995 as World Book Day. The tenuous association between the date and world literature was strengthened by the fact that April 23 is also the anniversary of Shakespeare's birth and death. (Never mind the discrepancies between the Gregorian and Julian calendars, according to which the death dates of Cervantes and Shakespeare were respectively recorded.)

World Book Night was originally conceived during a roundtable discussion at London's Book Industry Conference in 2010 and began in the U.K. and Ireland in 2011, spreading to the U.S. and Germany the following year. The idea is for avid readers to give away books to what the World Book Night website calls "light or non-readers." On April 23, 2012, some 80,000 volunteers distributed 2.5 million books.

I was among them. Last year, I chose to hand out copies of A Prayer for Owen Meany by John Irving. It's a novel I remember fondly from my adolescence when I first read it in high school.

Irving's tale of two friends struggling to understand their purposes on earth while growing up in a small New Hampshire town struck me as an easy sell. If all else failed, I could say that it was in part about the Vietnam War, relying on the ongoing relevance the conflict has in the popular imagination. But I quickly received a crash course in how difficult it is to give away a book.

My messaging, at first, was flawed. Standing on the narrow wedge of concrete bounded by Broadway, Edward M. Morgan Place, and West 157th Street called Ilka Tanya Payán Park, I began by emphasizing the fact that the books were free. Big mistake: I was indicating that what I had to offer was without value. Or worse yet, worthy of suspicion.

The other pitfall I had to be conscious of avoiding was targeting specific people. My beseeching gaze and earnest attempts at eye contact were verging on creepy.

Finally, I was being too tentative. Most of the pedestrian traffic I was encountering issued from the 157th Street subway station, and the preponderance of the people getting off of the train and walking home had their headphones on or earbuds in. It was imperative that I speak up so as to be heard.

All of which led me to adjust my approach. Before, I'd been asking individuals, "Would you like a free book?" Now I began hollering at no one in particular, "It's World Book Night, and I'm giving away copies of a New York Times bestseller!"

And it worked. In the following two hours I handed out all twenty copies of A Prayer for Owen Meany. That's one book every six minutes, which I assure you is a fine pace to set in a city of commuters inured to proselytizing and public manifestations of mental illness.

This year I'm even more excited to be a part of World Book Night because the novel that I'm giving away is such a gem (a full list of the books being handed out in the U.S. this year is available here). Salvage the Bones is the story of a fractured household on the Mississippi Gulf Coast, making do as a meteorological nightmare gathers offshore. It pulses with Jesmyn Ward's intuitive understanding of families, of the ties that bind and sometimes strangle siblings, of the way that motherhood and violence, birth and death are inextricable. Vaulting between ferocious dog fights and the equally bloody Greek myth of Medea, the writing is propulsive, poetic, and steeped in the vernacular of poverty. Reading it, I couldn't wait to pass it along to my girlfriend, to my brother, and eventually to the twenty strangers whose hands I'll press it into on Tuesday evening.

Keep an eye out: if you don't see me, then chances are you'll encounter at least one of the many thousands of us out there using trial-and-error to determine how best to give away a book. If you do, please take us up on the offer: I can't imagine a better bargain.
Quindlen Krovatin is a former Associate Editor of the Barnes & Noble Review. He lives in New York City.