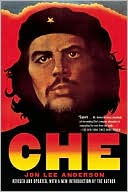 Che Guevara was executed on this day in 1967, the day after he and most of his small guerrilla band had been captured in central Bolivia. The most recent contributions to the debate over Che reflect the polarizations (or polemics) that have set in over the past forty-five years. As the 2004 movie The Motorcycle Diaries shows the young medical student's transformation to activism, so the memoir Remembering Che (2012), by his widow, Aleida March, describes a marriage sacrificed to the revolutionary cause. When the two met in Cuba in 1956, March was a courier arriving at Che's guerilla camp with money and documents taped to her hips. Those hips, Che recalls in one letter home from the Congo, his next battlefront, were too much temptation for a man "pretending to be the untouchable revolutionary." After a decade of marriage, with Che now off to Bolivia, he said goodbye in a poem:
Farewell, my only one,
do not tremble before the hungry wolves
nor in the cold steppes of absence;
I take you with me in my heart
and we will continue together until the road vanishes…
Sometime before he ran out of road in Bolivia, Che wrote another poem for his wife, this one so ominous that biographer Jon Lee Anderson (Che, 1997) sees in it "the form of a last will and testament." Titled "Against Wind and Tide," the poem asserts marital and political solidarity against any kind of buffeting:
…The most beautiful bullet in this pistol that always accompanies me,
the unerasable memory (always latent and deep) of the children
who, one day, you and I conceived,
and the piece of life that remains for me,

This I give (convinced and happy) to the Revolution.
Nothing that can unite us will have greater power
Aleida March is now director of the Che Guevara Studies Center in Cuba. At the opposite end of the spectrum stands Humberto Fontova, the son of an anti-Castro Cuban exile, who has no patience for those who portray Che as a loving father or a Byronic warrior-poet. In the Preface to Exposing the Real Che Guevara and the Useful Idiots Who Idolize Him (2007), Fontava describes Che's revolutionary dreams as "genocidal fantasies"; the book's chapter titles refer to Che as "The Godfather of Terrorism," as a "Jailor of Rockers, Hipsters and Gays," as a "Military Doofus" and "Fidel's Favorite Executioner"; the chapter on "Che's Final Debacle" begins, "It would be difficult to imagine a more cockamamie plan for Bolivia than the one Che devised."
---
Daybook is contributed by Steve King, who teaches in the English Department of Memorial University in St. John's, Newfoundland. His literary daybook began as a radio series syndicated nationally in Canada. He can be found online at todayinliterature.com.