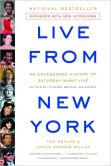 Chevy Chase turns seventy today, and Saturday Night Live celebrates its thirty-ninth anniversary this week — the first "Live from New York, it's Saturday Night!" delivered by Chase on October 11, 1975. The SNL debut also featured Chase doing his first "Weekend Update," which began in the smirking style he would make famous:
Chevy Chase: [talking into the telephone] What are you wearing right now? [smiles] No bathrobe? [notices the audience, hangs up telephone]….
As told in Live from New York, an oral history compiled by Tom Shales and James Andrew Miller, some of the original cast grew to resent Chase's rise to stardom and his "I'm Chevy Chase, and you're not" attitude. The resentment reached fistfight level in 1978 when Chase, having left the show as a cast member to pursue his own career, returned as guest host. Chase recalls "feeling, in retrospect, full of myself"; Bill Murray recalls feeling goaded into his fight with Chase by a jealous John Belushi, and by a desire to save Chase from his Hollywood self: "When you become famous, you've got like a year or two where you act like a real asshole. You can't help yourself. It happens to everybody. You've got like two years to pull it together — or it's permanent."
---
Daybook is contributed by Steve King, who teaches in the English Department of Memorial University in St. John's, Newfoundland. His literary daybook began as a radio series syndicated nationally in Canada. He can be found online at todayinliterature.com.