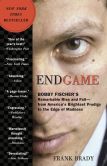 Thirteen-year-old Bobby Fischer won "The Game of the Century" on this day in 1956, defeating American chess master Donald Byrne. As described in Frank Brady's Endgame, the pivotal moment in the match came when Byrne was forced to weaken his defenses by taking Fischer's queen:
Bobby, now so focused that he could hardly hear the growing murmur from the crowd, made his next moves percussively, shooting them out like poison darts, hardly waiting for Byrne's responses. His chess innocence gone, he could now see the denouement perhaps twenty or more moves ahead. Yet, other than the rapidity with which he was responding to Byrne's moves, Bobby showed little emotion. Rather, he sat still, placid as a little Buddha, stabbing out one startling move after another.
By age fifteen, Fischer was the world's youngest grand master, and on path to his 1972 showdown in Iceland with Russia's Boris Spassky — the other match of the century, this one framed by Cold War gamesmanship:
Soviet authorities must have been baffled by this kid from Brooklyn who marched toward them inexplicably, like the force of capitalism itself. Worse, he became popular in Russia, his madness understood as an expression of freedom.… His run through the turn of the decade is probably the best performance chess has ever known…. (J. C. Hallman, The Chess Artist: Genius, Obsession, and the World's Oldest Game)
---
Daybook is contributed by Steve King, who teaches in the English Department of Memorial University in St. John's, Newfoundland. His literary daybook began as a radio series syndicated nationally in Canada. He can be found online at todayinliterature.com.