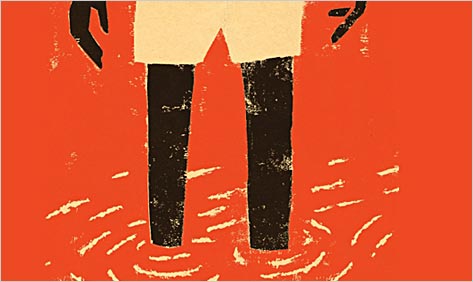 Eleven-year-old Chike, who has never before left his village, is sent to live with his uncle in a house with an iron roof in a town large enough to have its own water tap, where there are so many strangers that, his uncle's servant tells him, "sometimes a man died in one room and his neighbor in the next room would be playing his gramophone." But Chike dreams of going even further: to take a ferry to the town across the river, though the cost—one whole shilling—is more money than he has seen in his life.
Achebe (Things Fall Apart) published Chike and the River in 1966, to correct what he, then a new father, saw as a dearth of literature reflecting the lives of black African children. This edition, the first published in the United States, is illustrated with woodcuts by Cuban-born artist Edel Rodriguez.
Chike plays English football, makes friends with a boy named S.M.O.G., and learns not to eat on the street like "people without hometraining." When the local troublemaker concocts elaborate narratives to get English schoolchildren to send him cash in the mail, the headmaster exhorts the boys to think of what will happen when they go to England for their studies, only to find that their Nigerian pen pal scam has led them to be stereotyped as beggars and thieves. Meanwhile, Chike, "now a different person," focuses solely on "fulfilling his ambition," though in the end he "learnt that a big town is not always better than a village." While Chike's journey to the river has the universal appeal of a folktale, its also a story rich in the details and contradictions of midcentury postcolonial African life.