The bitter and the sweet of everyone's favorite treat.
---
By Sophie D. Coe and Michael D. Coe
In this engaging volume, husband-and-wife anthropologists Michael and Sophie Coe team up to uncover the diverse history of the "Food of the Gods." The Mayans used chocolate as currency, while the Aztecs mixed it with chilies to create a less valuable but more flavorful confection. The Spaniards shipped it back to Europe and began its transformation into the very altered commodity that would nevertheless be regarded as a heavenly delicacy. A surprising and informative historical tour.
---

Jacques Torres' A Year in Chocolate: 80 Recipes for Holidays and Special Occasions
By Jacques Torres
Of course you'd like to make your own bonbons for Valentine's Day, and have chocolate caramel corn ready for Halloween. But how about ringing in the New Year with poached pears dipped in chocolate fondue? Famed chocolatier Torres, the dean of pastry studies at the French Culinary Institute in New York, shares delectable recipes appropriate for each month of the year.
---
Charlie and the Chocolate Factory
By Roald Dahl
If you've only seen the movie versions, you've yet to taste the real magic in Roald Dahl's irresistible story. With his legendary amalgam of zany energy and arch wit, the author takes the wide-eyed child in everyone on a hilarious ride through Willy Wonka's mysterious factory. Charlie Bucket is the hero, but of course the real treats from the reader are the fates delivered to the ill-mannered children who accompany him — just deserts indeed.
---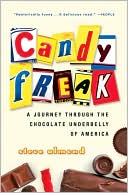 Candyfreak: A Journey Through the Chocolate Underbelly of America
By Steve Almond
Almond's lifelong passion for sweets takes the wheel as he road-trips to America's regional candymakers, such as the producers of Philadelphia's Goldenberg's Peanut Chews and Nashville's Goo Goo Clusters, and chronicles their battles to survive against the Big Three (Hershey's, Nestle, and Mars) in this charmingly personal look at candy's evolving role in our national life and business.
---
Bitter Sweet : Recipes and Tales from a Life in Chocolate
By Alice Medrich
As one of the American pioneers of an "adult" approach to chocolate, the highly inventive Medrich brings her decades of experience to bear in a book of recipes that includes some of her legendary dishes (such as the Queen of Sheba cake), and provides insight into cooking with the wide array of chocolates that is now available to the home chef.