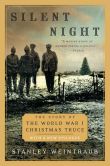 On this day in 1914 troops fighting the first World War observed what became known as the "Christmas Truce." Tentatively and spontaneously begun at various times and places along the front, the day featured anything from conversation to gift giving to soccer games to dining out:
We ate their Sauerkraut and they [ate] our chocolate, cakes, etc. We had killed a pig just behind our lines. There were quite a lot of creatures rambling about the lines, including an old sow with a litter and lots of cattle and poetry. We cooked the pig in No Man's Land, sharing it with the Boche.
The above is excerpted from Stanley Weintraub's Silent Night, which uses many such first-person accounts of the "outbreak of peace" to counter those governments of the day which wanted the event "dismissed in official histories as an aberration of no consequence." Weintraub concludes his study with lines from the poem "A Carol from Flanders" by the contemporary Scottish-Canadian writer Frederick Niven:
…They dug the graves for all their dead
And over them did pray:
And Englishmen and Germans said:
"How strange a Christmas Day!"

Between the trenches then they met,
Shook hands, and e'en did play
At games on which their hearts were set
On happy Christmas Day.

Not all the emperors and kings,
Financiers and they
Who rule us could prevent these things —
For it was Christmas Day.

Oh ye who read this truthful rime
From Flanders, kneel and say:
God speed the time when every day
Shall be as Christmas Day.
---
Daybook is contributed by Steve King, who teaches in the English Department of Memorial University in St. John's, Newfoundland. His literary daybook began as a radio series syndicated nationally in Canada. He can be found online at todayinliterature.com.