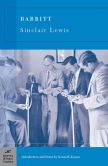 He serenely believed that the one purpose of the real-estate business was to make money for George F. Babbitt. True, it was a good advertisement at Boosters' Club lunches, and all the varieties of Annual Banquets to which Good Fellows were invited, to speak sonorously of Unselfish Public Service, the Broker's Obligation to Keep Inviolate the Trust of His Clients, and a thing called Ethics, whose nature was confusing but if you had it you were a High-class Realtor and if you hadn't you were a shyster, a piker, and a fly-by-night. These virtues awakened Confidence, and enabled you to handle Bigger Propositions. But they didn't imply that you were to be impractical and refuse to take twice the value of a house if a buyer was such an idiot that he didn't jew you down on the asking-price.
–from Sinclair Lewis's Babbitt, published on this day in 1922; the excerpt is a profile of the hero, a successful realtor and the prototypical Middle American citizen: "… our conqueror, dictator over our commerce, education, labor, art, politics, morals, and lack of conversation"
---
Daybook is contributed by Steve King, who teaches in the English Department of Memorial University in St. John's, Newfoundland. His literary daybook began as a radio series syndicated nationally in Canada. He can be found online at todayinliterature.com.