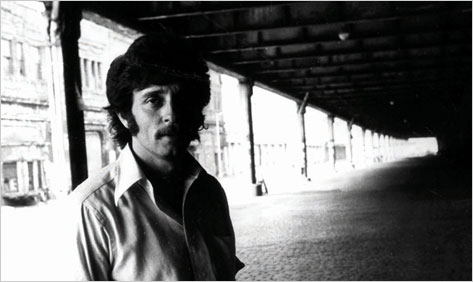 At the tail end of the 1980s, shortly after I'd first arrived in New York, an earnest young grad student — straight and more or less straitlaced, all midwestern chirp — I took an administrative job at a midtown office in which the only other employees were two buff and beautiful gay men. AIDS was ravaging the city then. Classmates in my theater program were disappearing with heartbreaking regularity. It was a frightening, dangerous time. But there, in that office, gay New York seemed like one big, wild, raunchy, ridiculously fun party.
My coworkers, both a decade older than I, delighted in trying to shock me with tales of their circuit-party exploits and backroom adventures, as we sorted and collated. Their dealer delivered drugs I'd never heard of right to their desks. They'd pull outrageous costumes out of shopping bags to show me, sometimes trying them on. But mostly, there were the sex stories, recounted in painstaking detail. They were flinging the heavy drapes off a window into gay New York, and I had my nose pressed right against the glass, peering with rapt attention and wonder at a world I'd never glimpsed before. I loved it.
And so it was with great anticipation that I began reading Edmund White's new memoir, City Boy: My Life in New York During the 1960s and '70s. White, the gay literary lion who has penned novels, biographies, and autobiographies including the groundbreaking coming-out-and-of-age memoir, A Boy's Own Story, has never been one to shy away from frank talk about sex and relationships. He was, after all, a co-author of The Joy of Gay Sex: An Intimate Guide for Gay Men to the Pleasures of a Gay Life, back in 1977, a work he discusses in City Boy. And New York in the years leading up to and immediately following the Stonewall uprising, in 1969, would promise to provide ample opportunity for provocative insights and juicy dish.
In the early chapters, White does paint a vivid picture of that particular intersection of place, time and attitude. "In the 1970s in New York everyone slept till noon," he enticingly begins, going on to describe the "grungy, dangerous, bankrupt" city where gay sex was furtive and thrilling. During these years, White was a New York newcomer, working by day in the publishing industry, cruising for tricks in the West Village at night, and spending two-hour lunches gorging on literature and dreaming of his own literary fame at the old Gotham Book Mart on 47th Street. Yet, White confesses, he felt "professionally isolated," a problem he ascribes to the tedium of working at a big corporation, and also to the fact that he was dating only young men and "wasn't meeting older people who were accomplishing things."
White set out to rectify this, meeting, through a friend's chance encounter in a bar, the poet, critic, and translator Richard Howard, who provided him entrée into literary New York. "Of course, I was terribly proud to be Richard's friend, not only because he was celebrated and knew so many distinguished people, but also because he was so lively and amusing," White writes.
Unfortunately, it's the encounters with "eminent friends" to which he dedicates the bulk of the book's remaining pages. The hookups and adventures of City Boy's most compelling sections soon recede behind name dropping of the nastiest variety. ("In our innermost fantasies we have the right to be pretentious," he asserts, freely exercising that right here.) And White himself comes across as the sort of person you might not want to meet, for fear of what he'd say about you as soon as you left the room. Alternately self-impressed and self-flagellating, White offers similarly divided treatment to the literary acquaintances, friends, and lovers he parades before us: puffing them up only to heighten the impact of the inevitable laceration. "In all my years of therapy I never got to the bottom of my impulse toward treachery, especially toward people who'd helped me and befriended me," he writes. It's an impulse repeatedly on display in this memoir — and we get no closer to its motivation than he did.
Whom does White backstab? Pretty much anyone he's ever met, people who have helped him personally and professionally, people who assuredly considered him a friend and ally, people many readers have probably heard of but haven't given all that much thought to. Of Gerome Ragni, who wrote the words and lyrics to Hair and died in 1991, White writes, "After the success of Hair, Ragni lost his manly good looks and became a sort of clown, with a white man's Afro and gaudy, flowing tie-dyed clothes. He was always stoned and talking and baring his teeth…. Everyone laughed at him."
White is not much kinder to his friends. The Pulitzer Prize-winning poet James Merrill, who didn't like White's first book, Forgetting Elena, and to whom White ingratiated himself with a steady supply of European sleeping suppositories, he paints as an excessive dieter and drinker, fatuous and flighty and fond of laughing at his own tired jokes. Robert Mapplethorpe, Truman Capote, and William Burroughs are also depicted as boorish in the extreme. Even White's dearest friends, literary critic David Kalstone and the aforementioned Richard Howard, come off fairly unattractively, though White might be surprised to hear that. White fawns on them, lavishing praise, but then reveals that, physically, each left him cold, even repulsed.
But White may have saved his meanest remarks for women. Fran Lebowitz, for instance, was a frequent dinner guest of White's. She "kept us sick with laughter with her constant, dry drolleries" and flatteringly blurbed one of White's books. "Later," he writes, "she became sort of a court jester — no, that's mean, perhaps 'funny companion' — to different rich gay or bisexual men such as Malcolm Forbes and Barry Diller and David Geffen." Susan Sontag also attended White's dinners and supported his work: "She had terrible manners. She picked her teeth after dinner," he sniffs.
And here's White on Peggy Guggenheim, who often hosted him for dinner in Venice and whom he paints as dumb, vain…and ugly, too: "She never talked about her feelings or her thoughts, though surely she'd had some…. She had a funny mashed-in nose, and as a young woman had gone for a nose job to get rid of her large 'hook.' The doctor, however, had botched it and Peggy had decided not to try again. She accepted her potato nose with typical fatalism."
Yet, if White comes off worse for his obsequiousness and backbiting, his transparency is laudable. The unflinching honesty of his portrayal of this milieu, with all its poses, pretensions, and hypocrisies, is bracing, perhaps even brave. Consequently, City Boy provides an effective lesson on just how brutal and clannish elite literary circles can be, and how a dogged, cleverly directed dedication to flattery and service can reap publishing dividends. White calls writing one of the "delirious professions," which "having no agreed-upon standards, require introductions and alliances, protectors and patrons, famous teachers or acclaim by someone reputed." The rise of the Internet and blog culture may have changed some of that, but alas, probably not enough.