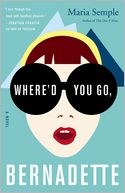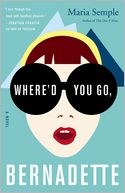 Dear Reader,
We're absolutely crazy for Where'd You Go, Bernadette?, Maria Semple's madcap epistolary novel with heart. On the eve of a family trip to Antarctica, the brilliant, reclusive, outspoken Bernadette Fox disappears, and her fifteen-year-old daughter, Bee, decides to find her. Semple's dialogue and plot zig and zag, and the result is a story of family dysfunction that manages to be sharp, funny, and wonderfully humane.
Maria discusses the undeniable appeal of reading other people's mail, the differences between writing a novel and writing for TV, recognizing glimmers of comedy in her own misery, and a writer "whose sentences are so beautiful it almost hurts to read them" with Discover Great New Writers.
Where'd You Go, Bernadette is narrated by a fifteen-year-old and contains letters, doctors' reports, blog posts, and magazine articles. How did you come up with this unusual form?

My idea for the book began with Bernadette, a brilliant but unhinged woman who devotes herself to motherhood and whose unchanneled artistic energy is wreaking serious havoc in her life. Since she's the type who likes to boss people around, it seemed plausible and funny to me that she would overshare with the help. But as Bernadette is so crippled by social anxiety that she's borderline agoraphobic, I decided to make this help virtual. As soon as I began typing that first email from Bernadette to her virtual assistant in India, it came to me in a flash: I'm writing an epistolary novel! This filled me with excitement, as two of my favorite books of all time, Les Liaisons Dangereuses by Choderlos de Laclos and English Passengers by Matthew Kneale, are epistolary novels. (There's something deliciously illicit about reading letters that aren't intended for you, isn't there?) I love the form and decided to just go crazy with it.

You wrote for TV shows like Arrested Development, Mad About You, and Ellen before turning to fiction. How did your career as a TV writer inform Where'd You Go, Bernadette?

To me, what makes a great novel is a great story. In TV, story is king. I feel wildly lucky to have spent so much of my life in rooms with writers much better than myself, learning to craft a story.

You must have also learned a lot about comedy.

I learned that comedy is born out of strong characters. I won't begin writing a character until I have a clear take on them. At first, the take can be rather crude. For example, Audrey is religious, cheap, and easily offended. Soo-Lin is provincial, boring, and overly invested in the intrigue at Microsoft. And then, of course, the characters fill out in ways I don't expect. Audrey would become a master gardener and the mother of a juvie. Soo-Lin would end up having a blind father and would lean heavily on a loopy support group, Victims Against Victimhood. If you've got a strong, specific character, the comedy will unfurl.

You mentioned Microsoft. Where'd You Go, Bernadette is full of precise details about the work environment there, plus a wide range of other subjects like the TED conference, Antarctica, the Los Angeles architecture scene of the '90s, private-school fundraising, brain-computer interface, and the logistics of getting someone institutionalized, to name a few. How much research did you do?

Not as much as it might seem! My talent isn't so much in traditional research as in finding really smart people and badgering them with questions. For example, I'd already decided that Elgie would work at Microsoft and that Soo-Lin would be his admin. Around that time, we went to the ballet and I started a conversation with a guy sitting next to me who, turns out, was a big-time engineer at Microsoft. He was incredibly friendly, so I asked him if I could come out to Microsoft for a visit. (I'd never been.) Two days later, he was walking me around the campus. Almost everything in Where'd You Go, Bernadette about Microsoft came from that one visit. Plus, this same VP read several drafts of the book and corrected all my terminology. Don't worry, he's thanked in the acknowledgments!

That anecdote paints an idyllic picture of your life in Seattle. But it would seem from the book that you don't much care for the place.

We moved to Seattle about four years ago. At first, I couldn't stand it. I didn't like the people; I couldn't find my way around the irrational street grid; the architecture was ugly; even the native plants seemed weird and unattractive. But Seattle's worst offense, in my dark mind, was that since moving there, I'd been unable to write. Luckily, I recognized a glimmer of comedy in my misery and out sprang the character of Bernadette. I began the book immediately and included all the well-crafted rants about Seattle that were stuck in my head. (Nobody wanted to hear it, and who could blame them?) By the time I was halfway through the book, I had started warming to Seattle. But I fended off any fuzzy thoughts until I finished my first draft. Now I thoroughly love Seattle.

Who have you discovered lately?

It makes me so happy to answer this, because the best books I've read all year were recommended to me by one of my favorite bookstore people, Debbie Boxer at Barnes & Noble in Seattle. We talk books, and one day I came in to buy At Last by Edward St. Aubyn, which a friend had recommended. Debbie mentioned that it was the fifth book in a series, and she went and found a paperback omnibus of the first four of St. Aubyn's Patrick Melrose novels: Never Mind, Bad News, Some Hope, and Mother's Milk. I read them in a weekend. They're riotously funny. St. Aubyn writes sentences that are so beautiful it almost hurts to read them. And his dialogue is the best I've ever come across. I can't recommend these books enough. Oh, and on a final note, it was a high point of my career as an author the day I was able to go into the Barnes & Noble in Seattle and tell Debbie that Where'd You Go, Bernadette was a B&N Discover pick.
[St. Aubyn's Some Hope was a 2004 Discover selection. -Ed.]
Cheers, Miwa
---

Miwa Messer is the Director of the Barnes & Noble Discover Great New Writers program, which was established in 1990 to highlight works of exceptional literary quality that might otherwise be overlooked in a crowded book marketplace. Titles chosen for the program are handpicked by a select group of our booksellers four times a year. Click here for submission guidelines.