American Generals in an era of change.
---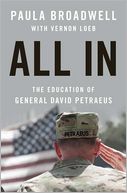 All In: The Education of General David Petraeus
By Paula Broadwell with Vernon Loeb
Before writing her book on the man who has been credited as the most transformative American general in decades, Paula Broadwell had what most military biographers didn't: access. A West Point graduate herself, she was paired with journalist Vernon Loeb (who was embedded with Petraeus' command) to trace the general's career from Central America, Haiti, Kuwait, Bosnia, and Iraq, and into Afghanistan, where his counterinsurgency strategy was put to the final test. A fascinating story of an American life, and the challenges of 21st-century warfare.
---
By David Halberstam
The classic account of the genesis of American involvement and strategy in the War in Vietnam, Halberstam's work brings into focus the policymakers — diplomatic, political, and military — who shaped the country's entry into a tragic conflict that permanently altered the course of American history. It also delivers an indelible portrait of the U.S. military on the cusp of sweeping cultural change — uneasily presided over by General William Westmoreland and others who are brought to life in this work of journalism-as-epic.
---
General Patton: A Soldier's Life
By Stanley Hirshson
Though George C. Scott's portrayal of the four-star general flattened his personality into something of a cariacature, Patton's tactical genius and ability to motivate his troops were matched by an undeniably challenging personality. Hirshson spent 11 years digging through previously unpublished government documents, family papers, and oral histories in an attempt to flesh out the many sides of a military hero who nevertheless led his men into massacres that may have been avoidable.
---
By Geoffrey Perret
He'd led U.S. forces in the defining conflict of the 20th century, but the image of Dwight Eisenhower that has endured is that of the golf-playing executive — and reluctant politician — presiding over America's postwar boom with cheerful complacency. But Geoffrey Perret slices through the 34th president's easygoing reputation to unearth Ike's more intense side, from crucial tactical decision-making to a possible wartime affair, while also offering new perspective on America's relations with the world.
---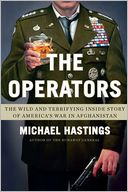 The Operators: The Wild and Terrifying Inside Story of America's War in Afghanistan
By Michael Hastings
After three decades of service, four-star General Stanley McChrystal resigned after Hastings' Rolling Stone article (which the Army had hoped would highlight the achievements of a "rock star" general) brought surprising and unwelcome attention from the public in the spring of 2010. The Operators extends Hastings' reach into the personalities leading the war in Afghanistan, unveiling a world of combat, intrigue, infighting, and carousing that few outsiders have seen.