Reading for graduates that will last a lifetime.
---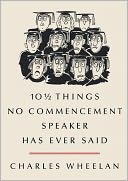 10½ Things No Commencement Speaker Has Ever Said
By Charles Wheelan
The perfect antidote to the shopworn platitudes that some graduates have to endure at the hands of uninspired speakers, Charles Wheelan's compendium of advice about happiness and success is refreshingly honest and funny. Though the moment when a diploma is granted is undoubtedly a time of celebration, it can also be fraught with anxiety, and the author seeks to aknowledge and allay those fears with hard-won wisdom, lent additional charm by the whimsy of New Yorker cartoonist Peter Steiner's irreverent illustrations.
---
By Sarah Bakewell
Montaigne's essential discovery, still startling today, was that the self is not a problem, not even a subject, but rather a finely calibrated instrument whose purpose is to pay attention to the world. Here Sarah Bakewell collects twenty "attempts" by Montaigne to answer the titular question: How to live? Suggestions include "Don't worry about death"; "Pay attention"; and "Read a lot, forget most of what you read". Pair this with the provoking essays of Ralph Waldo Emerson, who remarked upon reading Montaigne's work: "It seemed to me as if I had myself written the book, in some former life."
---
By David Foster Wallace
In his commencement speech to the Kenyon College Class of 2005, David Foster Wallace gave a speech that knit together the urgent concerns of his fiction — the lure of narcissism in a fragmented era, and the problem of how to keep one's mind from merely flying through life on autopilot — and became an instant classic of the genre. This is Water is a challenging, eloquent, and ultimately uplifting call to face the task of an authentic life with courage — made deeply poignant by the author's suicide only three years later. Equally moving: Carnegie Mellon professor Randy Pausch's call to seize the moment, The Last Lecture.
---
By Judy Jones and William Wilson
Can you distinguish Keats from Shelley? Shiite from Sunni? Deduction from induction? It's easy to wax rhapsodic about the places you'll go, but this lively guide gathers together an entertaining — yet truly informative — collection of all the things many of us miss along the way, whether due to a dull instructor, sleeping late, or spending that semester as a roadie for the local punk band. A testament to the fact that education never stops, even after you've thrown your mortarboard in the air.
---
By Anna Quindlen
When the novelist Anna Quindlen decided not to give the 1999 Villanova commencement address because she was concerned that protestors, opposed to her political views, would mar the ceremony, one disappointed student emailed her, requesting a copy of the speech that the Pulitzer Prize-winner had prepared. After Quindlen sent her the text, it became an online sensation. Later released in print to great acclaim, her address provides common sense counsel for those who want to live rather than just exist — delivered with the author's characteristic insight.