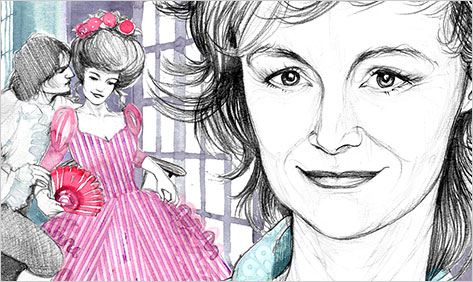 One of my ex-boyfriends isin love. He called Christmas Day to say that he's never been so happy (and incase you're wondering whether that touch of insensitivity was characteristic—itwas). An on-line program managed to find a woman whose ambitions, background,job, and habits match his precisely. After one date, they were a couple, and,after one month, they were sharing a front door: "We speak the samelanguage," he purred. But not all relationships arrive with an easy clickor two of the computer keys. According to the novels in this column, the best relationshipsmight be hard-won, those in which partners find each other (at least initially)incomprehensible.
Robin Kaye's Yoursfor the Taking puts an urban twist on a classic tale ofmarriage-for-convenience: Ben Walsh needs a wife or he'll lose his inheritance,and Gina Reyez could really use the money he offers. She's not worried aboutintimacy issues, because it's patently obvious that Ben is gay: he's incrediblywell-dressed, owns an art gallery, cooks like a dream, and decorated his ownapartment. Gina, on the other hand, is a fierce Latina businesswoman who wearsfive-inch heels and lots of red lipstick. He grew up in a loving family; hermother was a sex worker and her father was an abusive drug addict. They don'thave class, education, or gender in common—and even after Gina figures out thather gaydar has malfunctioned, their inability to understand each other almostleads to heartbreak. Yours for the Takingis a treat to read, and a sweet, funny way to start the New Year.
Laura Lee Guhrke's Wedding of the Season puts together a hero and heroine matched by class,but little else. Lady Beatrix Danbury was betrothed to William Mallory, theDuke of Sunderland, but a few days before the wedding, Will jilted his fiancèe,broke her heart, and left on an archaeological dig. He did his best to impressBeatrix with the allure of King Tutankhamen's tomb, which for her remainedmerely "clay pots and cylinder seals." Six year later, Beatrix is onthe verge of marrying another duke when Will reappears in England. But theystill have no way to talk to each other: she thinks the life of an archaeologistis madness; he thinks the life of a duke is meaningless. Beatrix puts herfinger on the main problem: "To be married—happily, at least—two peoplehave to want the same things, share the same view of their life." WhenBeatrix and Will finally find a way to bridge the chasm between Egypt andEngland, between a dig and the Ascot, the relief is delicious. Happinessbetween two people who have to learn each other's language is hard won and, Iwould argue, all the more joyful for the turmoil that precedes it.
The hero and heroine of Vicki Lewis Thompson's A Werewolf in Manhattan would never be paired by a respectable matchmaker. AidanWallace wears an $800,000 watch, and Emma Gavin takes the subway to save fossilfuel. But this couple is separated by more than class: they have physiologyagainst them as well. Emma is a bestselling writer of paranormal romances aboutwerewolves—and Aidan is the son of a rich and powerful werewolf pack leader. Addin the fact that sexual tension makes Aiden sprout hair on his hands (and otherplaces), plus a rogue werewolf threatening to tell Emma the truth, and A Werewolf in Manhattan spins into adelicious fantasy about a woman and a werewolf with absolutely nothing incommon. Thomas's hilarious story pops with funny references to big white teeth,fur overcoats, and possible puppies. But in the midst of all that laughter, thistale of people from utterly different worlds—and gene pools—is fascinating.
Ava Gray's SkinHeat poses a similar type of problem to that of Gina andher werewolf, but with a darker edge. Zeke Noble has escaped from a secretmedical facility where he was the subject of reckless and immoral experiments. Oncefree, he discovers he can no longer read, and words come to him slowly. On thegood side, he's much stronger, can hear a whisper miles away, and feelsunnervingly able to understand and to connect to animals. Geneva Harper alsohas an instinctive connection to animals—but no more than any other vet. She'sthe daughter of a mill owner, who grew up in luxury and fought for the right tohave a career. Zeke is the child of a drunk, whose mother committed suicide; asa boy he mowed Geneva's family lawn. More importantly, perhaps, she's normaland he—isn't. When things go awry, their perspectives are worlds apart. Butwhen Zeke tells Geneva that he "cares so much I don't have the words,"it's a deeply romantic declaration of love between people whom no one wouldbelieve had a chance at happiness.
Christina Henry's Black Wings brings together the most antithetical pair of all: anangel (albeit an earthly one) and a devil. Madeline Black is an agent of death,which means that she gets a white envelope every Friday giving her a list ofsouls that she's supposed to convince to enter "the Door." Maddienarrates her adventures with jaunty wit: to her, death is "just anotherbureaucracy." She takes a break from filing to rent her downstairsapartment to "a handsome devil," according to her pet gargoyle. As itturns out, Gabriel Angeloscuro is indeed a devil (not to mention gorgeous). Maddienot only doesn't understand him or his motives for moving into her house, butshe soon finds that she herself is manifesting some baffling powers. ChristinaHenry takes the situation in which a man and woman don't understand each othera step further by broadening the areas of potential misunderstanding to heavenand its opposite.
Match.com and its brethrenpromise that their computer programs will find the perfect person, leading tomeaningful, deep, and long-term relationships. And maybe that's true. But thesenovels tempt one to leap in at the deep end: to believe that people who havenothing in common, and can't understand each other's motives, ambitions oractions, can fall in love—and thatlove so hard won will be hard kept.
---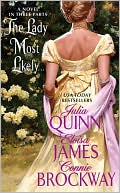 Please do check out Eloisa's pastcolumns in the Archives, and if you'd like to get her reaction to romances as she readsthem, follow her on Facebookor Twitter. B&N offers lots of places for you to share your reactions to your favorite books. There's the Romantic Reads Book Club, not to mention our daily romance blog, Heart to Heart,where readers chat about the hottest news in the world of romance,from favorite authors to scorching love scenes.
Eloisa's latest romance, The Lady Most Likely, written with bestselling authors Julia Quinn and ConnieBrockway, is now available in paperback and ebook editions—and her original e-novella, Storming the Castle, is available in alle-formats for only $1.99. For sneak peeks at all Eloisa's romances, pleasevisit her web site at www.eloisajames.com.