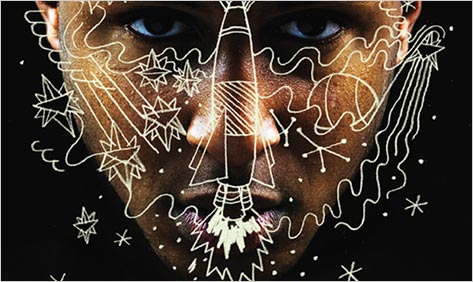 2012 was the second year in a row I've made a habit of reading and writing on young adult fiction two or three times a month, and yes — as you've probably noticed — there is an awful lot of it being published. Like any genre, it has its masterworks and its trailblazers, books that push the boundaries of what seems recognizable as "YA." It also, of course, has its share of books that seem to be nothing more than glorified script treatments, but even the most dreadful dreck of the bunch seems interesting as cultural commentary (then again, this is coming from someone who has written many thousands of words on the cultural significance of both Nancy Drew novels and Sweet Valley High novels). I will also admit that I am more interested in what Twilight says about the romantic fantasies of teen girls (and the adults who write for them) than deeply engaged by romantic triangles between vampires, mortals, and werewolves (also, if I'm hankering for vampires, I prefer Anne Rice, who at least mixes in gender play and empowerment with her supernatural beings and sadomasochistic erotica).

But those who cite the high proportion of young adult novels purchased by not-so-young adults — more than 55 percent — as grounds to lament readers' preference for escapist commercial fiction simply haven't read enough contemporary young adult fiction. Those who have steep critical standards for fiction in any market can find many examples of serious literary achievement on the young adult shelf.

The novels I reviewed this year were sometimes chosen because they seemed part of an interesting trend, and sometimes just because they looked like the best thing I could read that month. There are some trends I could have covered but did not: novels about road trips, novels about bands (which would include Nina LaCour's excellent and pitch-perfect The Disenchantments), novels about soldiers, and novels about mermaids (which are apparently the new vampires). Anecdotally, I have also noticed that many of the characters in young adult novels have exceptionally good parents (perhaps the adult writers giving themselves a plug), and that many writers seem to actively try to reverse hoary stereotypes. (I can think of at least three novels in the past year in which the poor kid was white and the wealthy, educated kid with good parents was black; one thriller had a gay jock bully; almost all seem to have a mix of sexualities, classes, and ethnicities.) The following novels are the best I've read this year. Some were previously reviewed; some were not; all are worth giving to any young, middling, or aging adult who likes good books.

Probably no one has to tell you that The Fault in Our Stars, by John Green, is the young adult hit of the year. Green's first three novels had already made him a cult favorite, and the anticipation for this novel was so high that his promise to hand-sign all pre-ordered copies became the kind of thing one's doctor would advise against when those orders hit 150,000 (yes, he signed them all). But this novel really is that good; it's the first book you want to press on people who love good fiction and want to know what this YA thing is all about.

The plot — two teenagers with terminal cancer fall in love and take off for Amsterdam with the help of a foundation devoted to granting the last wishes of cancer kids — could absolutely fall apart in the hands of a lesser writer. But Green is thoroughly and completely an artist, as accomplished as anyone writing today, and the narrative voice he carves for sixteen-year-old Hazel Lancaster savagely undercuts any possibility of treacliness or clichė, fusing braininess, sarcasm, philosophy, and the stark honesty of a girl coming to terms with her own mortality and that of her lover — at a time when most of their former classmates are worried about driver's licenses and losing their virginity (she and August accomplish the second together; the first he achieves with the help of a prosthetic leg nicknamed Prosty). While reading this novel, one realizes early on that it is one that will become a classic; like the first time I read S. E. Hinton's The Outsiders at around age ten, when I hit the last page, I immediately turned back to the first and began again (and Green doesn't even use Hinton's trick of making the last sentence the same as the first).

I had exactly the same compulsion after finishing Boy 21, by Matthew Quick, currently having a good year as the author of The Silver Linings Playbook, which may make him better known as that guy whose book became a movie starring Jennifer Lawrence, Bradley Cooper, and Robert De Niro (coincidentally, I reviewed that novel when it came out, too). Boy 21's subject matter — life in a small town ruled by mob violence and fear — isn't so different from Hinton's. Like both Hinton and Green, he manages to create the kind of grand emotional payoff that adolescents love — all three novels are the kind to provoke generations of cathartic sobs in teenage bedrooms, without ever pandering or denying the reader's intelligence.

I wrote about Lois Lowry's Son last month in a feature that included three other novels that used "the vessel" — i.e., the pregnant body — as metaphor. But Lowry's novel, the conclusion to a quartet that began with The Giver in 1994, is a serious artistic and political achievement, a Handmaid's Tale written for teens and an example of what the best dystopian fiction can do. The Giver has already achieved classic status, and the entire quartet is well worth reading, loaded with commentary on feminism, reproduction, technology, generosity, and the nature of democracy. You know, among other things.

Daniel Handler's Why We Broke Up is his second novel told in the voice of a teenage girl and the first explicitly marketed to teenage readers (His first novel, The Basic Eight, published before the Lemony Snicket years, was initially deemed too violent and sexy for teens. But as he told me in an interview, there has been some talk of republishing it as a young adult title — which may say something about the changing nature of the genre). Like all of Handler's books, it is full of wit and charm, and its success in telling the story of a smart girl who breaks up with a cute boy is utterly due to Handler's distinct voice. The Maira Kalman illustrations make it a beautiful object as well; and Handler's lists of fictitious art films and obscure records are particularly hilarious.

Jennifer Miller's The Year of the Gadfly is another example of a novel that succeeds on the strength of its narrative voice. As it's set among privileged private school teens, the comparisons to Prep and The Secret History and the more recent Special Topics in Calamity Physics are inevitable, and Miller's novel about a teenage journalist besotted with Edward R. Murrow is the kind of crossover read that should easily entice any reader of adult literary fiction.

Three of the best books I read this year had gay or lesbian protagonists. Benjamin Alire Saenz, the author of many novels and poetry collections for adults, begins Aristotle and Dante Discover the Secret of the Universe as a tale about two Mexican-American boys coming of age in Texas in the 1980s. Ari and Dante already feel ostracized in their community because of their highly educated parents; when they slowly fall in love, they feel doubly so. The parents in this novel are beautifully written and fascinating characters in their own right. Likewise, the parents in Gone, Gone, Gone, the third novel by the unbelievably young Hannah Moskowitz — she is twenty-two! — are exceedingly comfortable and supportive of their gay sons. Their sexuality is less of an issue than the tense, jittery feeling of the D.C. suburbs in the year after 9/11 during what became known as the Beltway Sniper shootings.

Ironically, the parents in A. S. King's Ask the Passengers are the least supportive of their lesbian daughter. Sixteen-year-old Astrid's mother wears four-inch heels to work in her home office and calls eggplant "aubergine" to distinguish herself as a native Manhattanite among their small-town Upstate New York neighbors; her father is a pothead. But when she and her best friends — the homecoming queen and her gorgeous boyfriend — are outed after they are arrested for being at a gay bar without ID, her sophisticated mother reacts with shame.

Like Gone, Gone, Gone, Thane Rosenbaum's The Stranger Within Sarah Stein also deals with the aftermath of 9/11. Sarah, like Handler's and Miller's protagonists, is a relatively privileged teenager; her father is a well-known TriBeCa artist; her mother a chocolatier in Brooklyn; her best friends are twins whose mother is often seen on billboards; and city commissioners show up at her mother's parties. But when her parents divorce, she befriends a homeless man who may have been a hero on 9/11 and has a mysterious connection to her grandmother, a Holocaust survivor. Rosenbaum gets the style of the New York City teenager — black motorcycle jackets one day, straightened hair and headbands the next — exactly right.

Put out by the relatively small Texas Tech University Press, it's also a beautifully produced book, with smooth pages and intricate, well-thought-out details, such as black-and-white photographs of the Brooklyn Bridge and a tiny illustration of a bicycle that repeats next to each page number.

My Sister Lives on the Mantlepiece, by Annabel Pitcher, also deals with the emotional consequences of war and terrorism on teenagers, but it takes place in England. Jamie and his older sister, Jasmine, live in the shadow of Jasmine's twin, Rose, who was killed in a terrorist attack. Their parents divorce, and their father develops a hatred toward all Muslims, which causes friction when his son falls in love with a Muslim classmate named Sunya.

Code Name Verity, by Elizabeth Wein, goes back to World War II, dealing with the intense friendship between two girls who become pilots during the war. After one dies, the other is captured and tortured. This story is brave and moving and unusual in its brutal depiction of women during wartime. Fire in the Streets by Kekla Magoon is the story of a young girl who wants to become a Black Panther, another historical movement not often seen from a girl's perspective.

The addiction narrative — whether glamorous, overwrought, or postured as cautionary tale — is a stalwart of young adult fiction going back to Go Ask Alice. Yet Carrie Arcos's Out of Reach is measured and relatively cool in its treatment, and it gets at a peculiar truth about addiction: Many times, the addict is simply gone. In this novel, it is literally true: Rachel goes looking for her older addict brother, Micah, with the help of his former bandmate. Together the two try to piece together Micah's life by seeing him in fragments: here is the beach where he may have slept; there is a person from whom he may have scored; here is a brutally beaten addict whose fate might reflect his own; there is a girl he may have loved. Its unique narrative perspective reflects the larger feeling of powerlessness people often feel as they watch another's seemingly inevitable slide into self-destruction.