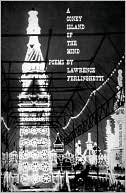 Lawrence Ferlinghetti turns ninety-three today. If Ferlinghetti's A Coney Island of the Mind (1958) is not, as often claimed, the bestselling book of American poetry ever, it helped to criminalize former poet laureate Billy Collins. In the title poem of his 2005 collection The Trouble with Poetry, Collins reflects that "The trouble with poetry / is that it encourages the writing of more poetry / …And along with that, the longing to steal, / to break into the poems of others / with a flashlight and a ski mask":
And what an unmerry band of thieves we are,
cut-purses, common shoplifters,
I thought to myself
as a cold wave swirled around my feet
and the lighthouse moved its megaphone over the sea,
which is an image I stole directly
from Lawrence Ferlinghetti —
to be perfectly honest for a moment —

the bicycling poet of San Francisco
whose little amusement park of a book
I carried in a side pocket of my uniform
up and down the treacherous halls of high school.
For Ferlinghetti himself, the only trouble with poetry is that there isn't enough of it, or that not enough of it reflects, as the title of one recent book of his puts it, Poetry as Insurgent Art. This collection contains a lifetime's attempt to capture and advocate for the poet's cause — "Poetry is a life-giving weapon deployed in the killing fields," "Poetry the perfume of resistance," "Poetry a perpetual revolt against silence exile and cunning…." There is an undiminished fire in some of Ferlinghetti's more recent poems, also; below is "Pity the Nation," which steals, in the Collins manner, from a poem by Khalil Gibran:
Pity the nation whose people are sheep,
and whose shepherds mislead them.
Pity the nation whose leaders are liars, whose sages are silenced,
and whose bigots haunt the airwaves.
Pity the nation that raises not its voice,
except to praise conquerors and acclaim the bully as hero
and aims to rule the world with force and by torture.
Pity the nation that knows no other language but its own
and no other culture but its own.
Pity the nation whose breath is money
and sleeps the sleep of the too well fed.
Pity the nation — oh, pity the people who allow their rights to erode
and their freedoms to be washed away.
My country, tears of thee, sweet land of liberty.
---
Daybook is contributed by Steve King, who teaches in the English Department of Memorial University in St. John's, Newfoundland. His literary daybook began as a radio series syndicated nationally in Canada. He can be found online at todayinliterature.com.