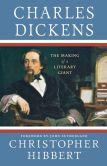 The first American book to be copyrighted — John Barry's The Philadelphia Spelling Book, Arranged Upon a Plan Entirely New — was registered on this day in 1790, just days after President Washington signed the Copyright Act into law. The new copyright law protected only domestic publications, however; foreign-published books were not protected for another century — two decades after the death of Charles Dickens, on this day in 1870.
On his American reading tours Dickens had campaigned vigorously against "this monstrous injustice," but he wasn't treated much better at home by the pirate publishers who churned out the "penny bloods" and "penny dreadfuls." Edward Lloyd, one of the most prosperous and unrepentant of the new industry, made a specialty of Dickens knock-offs — David Copperful, Oliver Twiss, The Penny Pickwick, and the like. The stealing was so bold and rampant that Dickens worked a confrontation with one of the pirates into Nicholas Nickleby:
…you take the uncompleted books of living authors, fresh from their hands, wet from the press, cut, hack, and carve them to the powers and capacities of your actors, and the capability of your theatres, finish unfinished works, hastily and crudely vamp up ideas not yet worked out by their original projector, but which have doubtless cost him many thoughtful days and sleepless nights; by a comparison of incidents and dialogue, down to the very last word he may have written a fortnight before, do your utmost to anticipate his plot — all this without his permission, and against his will; and then, to crown the whole proceeding, publish in some mean pamphlet, an unmeaning farrago of garbled extracts from his work, to which your name as author, with the honourable distinction annexed, of having perpetrated a hundred other outrages of the same description. Now, show me the distinction between such pilfering as this, and picking a man's pocket in the street: unless, indeed, it be, that the legislature has a regard for pocket-handkerchiefs, and leaves men's brains, except when they are knocked out by violence, to take care of themselves.
Unimpressed by this argument, Lloyd brought out an edition of Nickelas Nicklebery, followed by The Nickleby Papers and Nickleby Married.
---
Daybook is contributed by Steve King, who teaches in the English Department of Memorial University in St. John's, Newfoundland. His literary daybook began as a radio series syndicated nationally in Canada. He can be found online at todayinliterature.com.