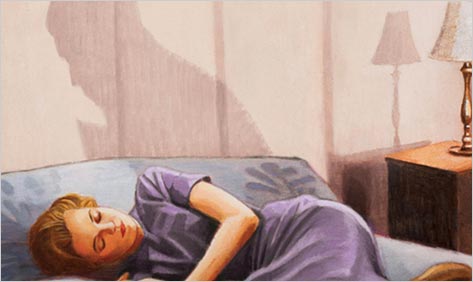 Short and spare, Peter Cameron's Coral Glynn is made up of four separate, tightly sprung parts, through which run disparate strains of literary manners and mood. The author has said that he has been influenced by such mid-twentieth-century writers as Rose Macaulay, Barbara Pym, Elizabeth Taylor, and William Maxwell. One can see this in his characters' quiet, intense interiors and Cameron's own thrusts of tart humor. But in this novel, the dealers in English gothic — the Brontë sisters, Wilkie Collins, and Ruth Rendell — are also close at hand, as is the spirit of mischief, steering the plot through sharp turns and startling revelations. The result is a fanciful, unpredictable curiosity of a novel, one which, I am happy to report, is immensely entertaining.
It is a wet spring in the English Midlands of 1950 and Coral Glynn, a young hired nurse, has come to Hart House to take care of a dying old woman who lives with her son, Major Clement Hart. Isolated and decaying, the place is looked after by Mrs Prence, an elderly housekeeper of precisely the sort you might expect in this setting: suspicious, unforthcoming, and spiteful. The failing Mrs Hart is a cantankerous, exacting patient whose many demands include an onerous insistence on sleeping in her high four-poster bed, even though she has to be laboriously hoisted into it: "She had been born in this bed, she claimed (although in fact she had not), and would die in it, too. Or die getting into it, more likely, Coral thought."
Clement, whose sister Charlotte killed herself years ago, is alienated from his frankly horrible mother. Badly wounded during the war, he walks with difficulty and loathes his own scarred and seared flesh. He is lonely, his only friend being another man, a lover of his youth whom he meets for a weekly drink, but whose physical attentions he now rebuffs. Clement is, in sum, a consummate master of gloom and sees only the life of a recluse before him — unless, it strikes him shortly after Coral arrives, he marries this young woman.
And why not? Yes, she is considerably younger than he is, but she too is lonely, prey to the lonesomeness of the bereft and unprotected. Both her parents are dead and so is her brother, killed in the war. Coral has no one and no home, and moves from situation to situation as a live-in nurse, an adjunct to the lives of others. She is just the sort of person that those with a place in the world find handy to supply their own needs, whether honorably as Clement intends, or, as in the past — as we learn in one of the book's abrupt revelations — dishonorably.
The novel is told chiefly from Coral's point of view, a vantage made more acute by her own, often sardonic, reflections on those around her. But it is also a closed-up, protective angle that only occasionally opens to afford glimpses of her past. These I don't wish to reveal as Cameron dishes them up with perfect timing to startling effect. In fact, it is a little difficult to talk about what happens in this novel at all because the unlooked-for disclosure and disquieting event are essential to its mechanism. I will say that an undercurrent of feral aggression is present and unsavory discoveries abound, as when Coral comes upon a boy torturing a little girl deep within a holly-bush copse, an episode with a terrible and momentous outcome.
Almost everything in and around Hart House is emblematic of an underlying unseemliness. Here we find Coral awaiting Clement, whom she has married, on her wedding night, sitting on the now-deceased Mrs Hart's bed (of all beds!) wearing the dead Charlotte's nightgown (of all nightgowns!):
She sat on the bed and waited. She felt her body chill beneath the thin layer of linen, which she realized had been pressed hard and stiff by Mrs Prence: it was not a gift but a punishment. A hair-shirt. After a moment she opened the drawer of the night table beside the bed and looked in at the jumble of crimped tubes and ancient bottles of lotions and unguents. Dirty bits of ribbons, and hankies, and nubs of pencils. A prescription bottle read: Mrs Edith Hart, take 1 tablet every six hours or as needed for pain. A wooden baby Jesus crèche figurine, missing his left arm, was stuck to an unwrapped piece of toffee. Coral shuddered and closed the drawer.
An untoward development and a couple of bad decisions on Coral's part (of which she is something of an adept) lead to her expulsion from Hart House. But this, in turn, is the route by which she finds her way into a life of her own, unbeholden to others, with a little place to live, and a salary that allows her such acts of independence as eating in a café:
When she was finished with her lunch she stepped into the street. She looked back through the café window at her table, which had not yet been cleared, and the remnants of her meal remained there as blatant as evidence: she was a person in the world. She existed, and she was free.
Coral has at least one further trial which I again leave you to discover; but I know I must give more away to encourage you to read this wonderfully engaging, atmospheric, and oddly capricious novel: It serves up a happy ending. This is more or less true for Clement and even, strange to say, for Mrs Prence, but above all for Coral. Upon her is bestowed a fate far more fortunate than anyone might think possible for a young woman whose wedding night saw her sitting on a dead woman's bed in a suicide's nightgown.