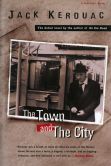 Jack Kerouac was born on this day in 1922, and on this day in 1948, his twenty-sixth birthday, he enthusiastically noted in his journal his progress on his first published novel, The Town and the City:
Guess what?! — on my birthday today, wrote 4500-words(!) — scribbling away till six-thirty in the morning next day. A real way to celebrate another coming of age. And am I coming of age?…
A few days later, he happily redoes the math: "That's 13,000 words in the past five days, since my birthday, a tremendous speed I've never equaled. Is it my old man hollering at me from the foot of the stairs as I get older?" Other journal entries show that Kerouac often measured his progress by word count. A tally taken in mid-November, 1944, estimated that in the previous five years, since age seventeen, he had logged some 600,000 words — "poems, stories, essays, aphorisms, journals, and nine unfinished novels."
When The Town and the City was published in 1950 it received some good reviews, and comparisons to Thomas Wolfe for its overflowing, sometimes lyrical style. It is a conventionally told coming-of-age story, with no hint of the later "spontaneous prose," though the ending, set up as something of a parable, rings a bell: one brother chooses town (to be a farmer near home), one brother chooses city (to be a Sorbonne student), and one brother…
…was on the road again, traveling the continent westward, going off to further and further years, alone by the waters of life, alone, looking towards the lights of the river's cape, towards tapers burning warmly in the towns, looking down along the shore in remembrance of the dearness of his father and of all life…. He put up the collar of his jacket, and bowed his head, and hurried along.
---
Daybook is contributed by Steve King, who teaches in the English Department of Memorial University in St. John's, Newfoundland. His literary daybook began as a radio series syndicated nationally in Canada. He can be found online at todayinliterature.com.