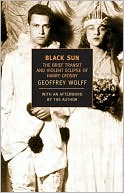 December 7: Onthis day in 1929, Hart Crane hosted a party for Harry and Caresse Crosby,attended by E. E. Cummings, William Carlos Williams, Malcolm Cowley, WalkerEvans, and a crowd of Crane's sailor friends. Held at Crane's apartment in fullview of the Brooklyn Bridge, the party was to celebrate Crane's completion ofhis seven-year poem, The Bridge, andits imminent publication by the Crosbys' Black Sun Press. It was also a bon voyage to the Crosbys, who werescheduled to sail for Europe within the week, returning to the wild and wealthyexpatriate pursuits they had declared their mission—in telegrams home, forexample: PLEASE SELL 10,000 WORTH OF STOCK. WE HAVE DECIDED TO LEAD A MAD ANDEXTRAVAGANT LIFE.
Crane had written parts of The Bridge at the Crosbys' retreat outside Paris. This was a placeof champagne, polo played on donkeys, and literary projects, all of it inspiredor just funded by the Crosbys—both were high society Boston, and Harry's unclewas J. P. Morgan. The Black Sun Press had evolved from being a vehicle for theCrosbys' own bad poetry to being an important outlet for many famousmodernists, among them James Joyce, D. H. Lawrence, and Archibald MacLeish.Whatever else was said about their money, self-indulgence, and Jazz Age pranks,the Crosbys were known to be serious about full living and good books.
But if Harry Crosby was among the richest ofthe Lost Generation, he was also among its most lost. Behind Crosby's "blacksun" logo was a cryptic personal mythology based on darkness and light,and a commitment to living hard and dying young. One plan was to blaze out byairplane, another was to jump—on the morning of his death Harry asked Caresseto jump from their hotel room. Josephine Bigelow, Crosby's mistress, was his"Sun Princess," and one of the few who took it all seriously:two-and-a-half days after Crane's party, Crosby and Bigelow committed doublesuicide, using Harry's revolver, engraved with a sun.
---
Daybook is contributed by Steve King, who teaches in the English Department of Memorial University in St. John's, Newfoundland. His literary daybook began as a radio series syndicated nationally in Canada. He can be found online at todayinliterature.com.