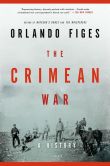 Britain and France declared war on Russia on this day in 1854, taking side with the Ottoman Empire in the Crimean War. In the Epilogue to The Crimean War (2010), the prizewinning historian Orlando Figes emphasizes how defeat in the Crimea, notably during the storied Siege of Sevastopol, has left an enduring legacy in Russian history and culture and helped shape the worldview behind recent events:
Memories of the Crimean War continue to stir profound feelings of Russian pride and resentment of the West. In 2006, a conference on the conflict was organized by the Centre of National Glory of Russia with the support of Vladimir Putin's presidential administration. The conclusion of the conference, issued by its organizers in a press release, was that the war should not be seen as a defeat for Russia, but as a moral and religious victory, a national act of sacrifice in a just war; Russians should honour the authoritarian example of Nicholas I, a tsar unfairly derided by the liberal intelligentsia, for standing up against the West in defence of his country's interests. The reputation of Nicholas I, the man who led the Russians into the Crimean War against the world, has been restored in Putin's Russia. Today, on Mr. Putin's orders, Nicholas's portrait hangs in the antechamber of the presidential office in the Kremlin.
---
Daybook is contributed by Steve King, who teaches in the English Department of Memorial University in St. John's, Newfoundland. His literary daybook began as a radio series syndicated nationally in Canada. He can be found online at todayinliterature.com.