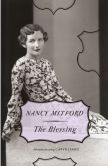 Now what you need in this little old island, and what is needed in all the countries of Europe west of the so-called Iron Curtain, and even more I imagine, though I do not speak with personal experience, in all the countries of Europe east of the so-called Iron Curtain as well as in the backward lands of the Far East and the backward lands of Africa, is some greater precognition of and practice of (but practice cannot come without knowledge) our American way of living. I should like to see a bottle of Coca-Cola on every table in England, on every table in France…. When I say a bottle of Coca-Cola I mean it metaphorically speaking, I mean it as an outward and visible sign of something inward and spiritual. I mean it as if each Coca-Cola bottle contained a djinn, as if that djinn was our great American civilization ready to spring out of each bottle and cover the whole global universe with its great wide wings. That is what I mean.
Nancy Mitford was born on this day in 1904. One of Mitford's targets in her 1951 satiric novel, The Blessing, is the overbearing and underwitted American, exemplified above by Hector Dexter, a U.S. government official who sweeps through postwar Europe dropping jaws and stepping on toes.
---
Daybook is contributed by Steve King, who teaches in the English Department of Memorial University in St. John's, Newfoundland. His literary daybook began as a radio series syndicated nationally in Canada. He can be found online at todayinliterature.com.