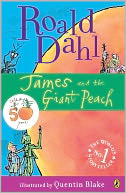 I must confess to a blinkered and consequently deprived childhood, in one respect. Somehow, despite continually haunting three different libraries in search of works of a fantastical nature, I never chanced upon the books of Roald Dahl while still in elementary school. And they began to appear precisely when I would have truly savored them. James and the Giant Peach, the first, was published in 1961, the year I finished first grade. A little too advanced for me then but surely still discoverable on the shelves two or three years later. But no, I chanced to encounter Dahl only in high school, with his "adult" stories. I still recall the thrill of picking up Switch Bitch in a used book store in the small bohemia adjacent to Brown University. Enjoyable, sure, but not a patch on the YA stuff.

Now, however, I am making up for lost childhood splendors, with the release of Dahl's YA catalog to the NOOK. And I like to imagine that in this twenty-first-century world of instant search results and Digital Dahl, no child, googling on "chocolate factory," will ever again suffer the same lamentable gap in their literary education as I once did.


James and the Giant Peach magnificently starts out Dahl's career as a blithe and droll Bad Uncle corrupter and affirmer of youth. Its influence can be subsequently traced down the decades in everything from Maurice Sendak to Lemony Snicket to J. K. Rowling. It's the juicier prose equivalent of the sometimes etiolated Edward Gorey, whose own macabre flights of fancy were taking off at roughly the same period.

Orphaned at the tender age of four, James Henry Trotter lives with two horrid aunts for three years. Then an unexplained visit from a mysterious fellow (a visit never boringly justified with logic or even coincidence) results in the magical manifestation of a fruit large as a house, as well as the uplifting of several bugs and an earthworm into companionable gigantism. The adventures of James and his pals on the roving peach include battles with Cloud Men and an eventual descent on the hapless city of New York. Dahl delights in wordplay, suspense, and cruel misfortunes (and, it should be noted ethnic stereotyping is also an unavoidable feature of Dahl's writing : "'I'd rather be fried alive and eaten by a Mexican!' wailed the Old-Green-Grasshopper.") Why, there's even bestiality! "The Ladybug, who had been haunted all her life by the fear that her house was on fire and her children all gone, married the Head of the Fire Department and lived happily ever after."


Need we say much about the genius of Charlie and the Chocolate Factory, after the fame engendered by two movie versions? Well, yes, perhaps. There's a lot to ponder here in the original. Is Willy Wonka Old Scratch Himself, tempter and demon? Or just every Thomas Edison mad with exultant inventiveness and heedless of societal impact? Or colonialist and industrialist and snake oil salesman? Or visiting alien, even? His multivalency is astounding. And what of Charlie himself? Despite his suffering probity, he's a bit of a cipher and earns his immense reward by no special heroism, just meek endurance and humility. What kind of rugged individualism is that? And did Thomas Pynchon read Charlie before conjuring up "The Disgusting English Candy Drill" portion of Gravity's Rainbow?

Emerging from Charlie, we begin to sense a few other precedents for Dahl's art and angle of attack: some of the more gruesome episodes from Ray Bradbury's Golden Age canon, certainly, as well as Hillaire Belloc's Cautionary Tales for Children.


The wiggly drawings of Quentin Blake, essential complement to Dahl's text, figure more prominently than ever in Fantastic Mr. Fox (although they were not part of the first edition), as Dahl actually references the illustrations in his narrative to explain to the reader exactly how severely the farmers Boggis, Bunce, and Bean are undermining Mr. Fox's hill. In Charlie, Dahl invoked Beatrix Potter, and this short novel is his homage. Necessarily complicated by director Wes Anderson for the cinematic version, Dahl's original tale is a stripped-down morality play about hunger and greed, affluence and sharing, creativity and conventionality.

Charlie and the Great Glass Elevator picks up directly where its predecessor stopped, and although the book delivers plenty of excitement and laughter and satire, it lacks the allegorical compactness of its ancestor, sprawling all over the place rather shapelessly. Or rather, like the alien Vermicious Knids who threaten Charlie & Co., it assumes many shapes depending on its purpose. Charlie rockets into space for an adventure, then returns to Earth and other dimensions (Minusland) for more, his family in tow and Willy Wonka representing his typical demiurgic self. (Notably, we peek for one brief, exceptional moment into Wonka's mind and find him rather weary of human folly.) The year of its publication, 1972, was a turbulent one, and Dahl's Strangelove take on the politics of the USA is worthy of Hunter S. Thompson. The country is secretly run by Miss Tibbs, the eighty-nine-year-old vice president and president's ex-nanny with a whiskery chin, and the populace is a media-besotted herd. Dahl's love of embedded songs reaches its apex here, with a multipage ditty about a little girl who took too many laxatives while her negligent guardian was out drinking gin. The projected third book in the series, Charlie in the White House, remained, for good or ill, unfinished at Dahl's death.


Readers coming to Danny the Champion of the World directly after these earlier books will experience a kind of mental whiplash, but of a decidedly pleasant sort. For unlike his earlier works, Danny is resolutely down-to-earth and non-absurdist, a beautiful, elegiac celebration of a father and child in a lovingly detailed rural setting. Danny himself narrates the story of his life up till age nine and the epic occasion when he and his dad poached 120 pheasants from a local villain. Full of David Copperfield pathos, containing delicate sentiments and hard truths beautifully cast, the book nonetheless delivers its share of rollicking laughs. Danny's dad is Fantastic Mr. Fox in human guise.


The drawings of Quentin Blake assume a certain Steig-like malevolence in The Twits, his scratchy line work utterly suitable for the subject matter. Mr. and Mrs. Twit are the wretchedest specimens of bickering humanity, vile in a million different ways. They torment themselves and the local bird population — they are fond of a weekly Bird Pie — as well as the four caged monkeys led by paterfamilias Muggle-Wump. But of course they get their cruel deserts in a tale full of splendid gross-outs and injustices repaid. Rumors of a future movie version somehow involving John Cleese remain too utopian to believe.

Like Alec Guinness's The Man in the White Suit — or, perhaps, like Homer Simpson developing "tomacco" — George's Marvelous Medicine tells the tale of a lad and his accidental discovery of a unique formula. Compounded out of a hundred lethal ingredients to torment his miserable granny — "She had pale brown teeth and a small puckered-up mouth like a dog's bottom" — George's potion wreaks havoc, but with a potential commercial fallout. His father's attempts to duplicate the formula illustrate that adult intervention does not always provide the kind of sensible course correction that such situations seem to require.

Roald Dahl pioneered a new kind of literature for youngsters, one that dispensed with cant and solemnity, favoring anarchy and joy over duty and humbuggery while acknowledging that oftentimes no good deed goes unpunished. But ultimately, it was his sheer joie de vivre that carried the day. At the end of Danny the Champion of the World, he offers some advice to parents which could apply to authors, with just a simple substitution of nouns.

"A stodgy parent is no fun at all! What a child wants — and DESERVES — is a parent who is SPARKY!"
---

Paul Di Filippo's column The Speculator appears monthly in the Barnes & Noble Review. He is the author of several acclaimed novels and story collections, including Fractal Paisleys, Little Doors, Neutrino Drag, and Fuzzy Dice.