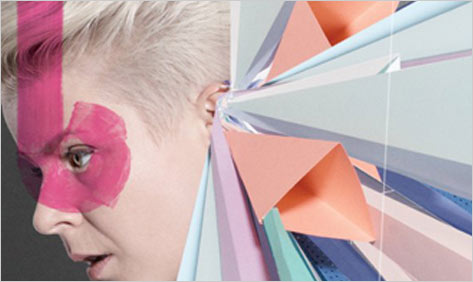 The Swedish dance thrush Robynfilled the 6,000-capacity Radio City Music Hall February 5 even though herwidely praised Body Talk album had never cracked the Billboard 200, although its shorter andcheaper Body Talk, Pt. 1and Body Talk, Pt. 2 predecessors had. Robyn'sStateside audience ought to be bigger; in fact, this album-oriented rockerthinks the albums ought to be better too. But they're pretty fine anyway, andRobyn gave the crowd an even better show than they gave her. The house wasabout half gay, which leaves some 3,000 celebrants divided into manymale-female couples, enough girls-night-out couples and groups, and me proudlysurrounded by my 65-year-old wife Carola and my 25-year-old daughter Nina. Ninaand I agreed we'd slightly preferred the sweaty August gig she'd put away atthe 1,400-capacity Webster Hall. But Carola was happy with exactly what shegot—not only a commodious venue but a commodious crowd.
"Somehow she creates such a feeling ofacceptance," she told me at breakfast, wearing a hotpack although she'dannounced the night before that dancing at her seat for 90 minutes had finallyloosened up her back. "Did you notice the large couple just up to our right?"This wasn't the large black couple dancing directly across from us, but thelarge white couple further forward who turned and sang lyrics to each other atevery opportunity (both couples, as it happens, were male-female). "Iloved how everybody knew the words. Thousands of people singing 'Now I'll bedancing on my own.' Wow—what does that even mean?"
"Dancing on My Own" is the nearest thing Robynhas had to a "hit" in her current manifestation: No. 3 on Billboard's Hot Dance Club Play chart.This great honor situates her where she currently belongs, in Clubworld—not thestill-thriving alt-rock circuit, but a less arty and somewhat pricier realmdescended from disco. Since Nina came along, my knowledge of Clubworld has beenbased almost entirely on hearsay, reading, and of course listening. Carola andI dance more than most people our age, but at parties, and seldom to what Iwill designate techno—which equals dance music almost everywhere in the worldbut America, where it gets major competition from the popper and crunkerstrains of hip-hop. As I've said many times, dance music is very site-specific.Even disco proper, which produced loads of music I loved, was dependent onsound systems, DJs, and biochemical enhancements inconvenient to duplicate at home.For those partial to lyrics, voices, and melodies, techno is much worse, itshundreds of subgenres unparsable despite the occasional killer compilation andthe more occasional self-sustaining longform like The Knife's Silent Shout.
Robyn has worked with the art-damaged Knife, who arealso Swedish and whose subsequent work suggests that the eerie comedy of Silent Shout is as pop as they intend toget. But she's also a hip-hop fan, and her commitment to the more pop-friendlytechno strain called electro comes from an unarty place—her history as ateenpop queen and, later, a club kid. The daughter of actors whose divorceinspired her first venture into songwriting at 11, Robyn became a star inSweden in 1995, when she was 16, and had two American top 10s in 1997: "DoYou Know (What It Takes)" and "Show Me Love." Though Robyn hasalways been a songwriter—in English, as ABBA taught all Swedes—herbreakthroughs were doctored by Stockholm legend Max Martin, who's also had hishand in the Backstreet Boys' "I Want It That Way," Britney Spears's"Oops! . . . I Did It Again," and Katy Perry's "IKissed a Girl," among many others. There are good songs galore on herteenpop debut Robyn Is Here, including plenty she wrotewith her usual team, but "Show Me Love" clinches the deal with itssturdy chorus hook: "Show me love, show me life/Baby show me what it's allabout." Seriously yet discreetly sexual, not naughty or oopsy, it hints atthe sobriety of another Martin contractor, Celine Dion. Be grateful Robyn hadother ideas.
First, however, she had to go through the awkward stagethat hits teenpop stars like clockwork. Her 1999 My Truth is as strained as you mightfear despite the title track's convinced relativism and "Giving YouBack"'s reflections on her own abortion, and the minor hits on 2002'slikable enough Don't Stop the Music pleased no one enough in theend. This is where the burned-out skyrocket either turns into Justin Timberlakeor enters rehab. Robyn turned into Justin Timberlake—in her own way, which isthe only way, and on a smaller scale, but impressively nonetheless. Beyond JT,in fact, no one has done it better, including my old fave Pink, now proudlypregnant by her squeeze-turned-husband, motocross racer Carey Hart. Robyn hasone of those too—Olof Inger, a fiancé she's dated since 2002 who is both avisual artist and a mixed martial artist. (Quality girlpop and extreme sports—separatedat birth?)
Timberlake's march on the American entertainmentindustry brandished his burgeoning musicality, surprising slapstick, andadequate acting ability. Robyn's approach was less ambitious artistically, butalso less conventional structurally: to record the music she wanted to recordon a label she owned and ran called Konichiwa. Although this took guts for a25-year-old has-been, how much autonomy Robyn has achieved remains murkybecause, sanely, she works with a business manager and in America secureddistribution—a full 10 years after RobynIs Here, her only previous Stateside release—via Cherrytree, a Universal-affiliatedsemi-independent best known for Lady Gaga, although Robyn got there first andthe likes of La Roux and Far East Movement followed.
Although all these acts specialize in club music whosefocus tracks are designed to pulse and warble from radios and shopping-mallin-stores, for Robyn pop runs deeper than that. "I'm raised in the Swedishtradition of songwriting," she told a DJ-interviewer. "If you don'thave the songs, you're going to be fucked basically." Her singing, too,reaches for the kind of down-to-earth empathy that signifies for many younglisteners well after their adolescence is over—which, as the club-inclinedespecially find, by no means brings an end to romantic drama. More than BritneySpears's trashy coo or Christina Aguilera's trained projection, the sincereaffect of Robyn Is Here presagedstraightforward Brits Adele and Duffy, only with quieter soul flourishes and amore boisterous sense of fun. In 2005, the Konichiwa-launching Robyn turned up the fun—pugnaciouslyso. But irresistible as the chirpy boasts and skanky beats of "KonichiwaBitches," "Cobrastyle," and "Bum Like You" seem towise guys like me, it was the addition of the breathy, emotional "WithEvery Heartbeat" that put Robyn's reincarnation across in Britain and theStates. And it's the heartsong element that gives Body Talk's faux trilogyits heft and staying power.
In the trilogy, all of which materialized within asix-month span, 18 songs total repeat (or not) in remixed (or merelyre-released) versions over two budget albums and a regular one comprising 31tracks total. Robyn says she chose that route because she wanted the freedom torecharge on tour before finalizing all her new material in the studio;Cherrytree's Martin Kierszynbaum says he hoped to service Clubworld's hotbed ofinstaneity with the speed website comments demanded. Figure they're bothtelling the truth and that, as Robyn has said, she won't do it again. But itdefinitely didn't produce the best of all possible albums. Although I rankedthe grand finale my No. 17 album of 2010, I enjoyed Pt. 1 at least asmuch. So at Christmas, to amuse my younger friends and educate their parents, Irejiggered the three Body Talks intoa mixtape yclept Robyrt's Robyn thatwould have finished top three for sure.
My tracklist, which you can find below, highlights onlyher strongest heartsongs and pursues a narrative logic in which the hurtingRobyn of "With Every Heartbeat" proceeds from the pugnacious Robyn of"Konichiwa Bitches"—in which the compassionate Robyn of "CryWhen You Get Older," a Pt. 1reach-out left off the finale, proceeds from the defiant Robyn of theasterisks-in-original "Don't F***ing Tell Me What to Do," which leadsPt. 1 but not the finale. It movesfrom three Clubworld-specific manifestos to the broken-up, chin-upsolitude-as-solidarity anthem "Dancing on My Own" to the story of alove affair that you can glean from the titles: "Get MyselfTogether," "Hang With Me," "Call Your Girlfriend,""Stars 4-Ever," "Indestructible." Of these the prize is"Call Your Girlfriend," where the pain Robyn is feeling belongs tothe ex she's replacing. If "Tell her that the only way her heart willmend/Is when she learns to love again" is kind advice, "Don't youtell her how I give you something that you never even knew you missed" iseven kinder. But it's also vain. The woman can write.
After "Cry When You Get Older," in which Robyncounsels the bereft young of both sexes like the big sister she's grown up tobe, come five songs in which the pugnacity of the three openers takes on a socialdimension, which for a second-generation artist in a putative welfare state seemsto come naturally. These climax with "We Dance to the Beat," wherethe title repeats some 60 times with ever-changing tags: the beat of"silent mutation," "raw talent wasted," "bad kissersclicking teeth," "consolidating assets," "suburbiaburning," "an eviction next door," "a billion charges ofendorphin," "a love lost and then won back," "source codeand conjuring," "gravity giving us a break." As a coda there's afolk song sung sweetly in Swedish, just to remind us where Robin Carlsson comesfrom and who she's been.
Electro means not just electric but electronic—keyboardbeats and tunelets, no guitars, horns, or violins. Konichiwa Robyn's groovesare choppier, her songs full of lists. And, except on the folk song, the voiceis more babyish than when she was teenpop, often filtered or treated—more BettyBoop than Heidi. So among other things, she's a cartoon, which is fine withher. This is a proud habitué of the same Clubworld outsiders considerinauthentic, amoral, and even post-human—and that she knows to be "agrown-up playground where people just let everything hang out and get stupiddrunk." She shares a gleeful duet with a doggish Snoop Dogg and esteemsher gay audience because "feeling like an outsider is something that gayculture naturally always had to consider"; she goes out of her way tospeak to, as Robyn's "DreamOn" specifies, "Thugs and bad men/Punks and lifers/Locked up interns/Pigsand snitches." No one this pugnacious can be much of a pushover orsentimentalist. But for damn sure she's not inauthentic, amoral, or post-human.
Robyn is a muscular, thick-waisted pixie who couldn'thave stood more than five-four in the platform workboots she sported at RadioCity. On a scene that adores glamour, she was conspicuously pragmatic, with aband comprising two drummers and two keyboard players and costume changeslimited to taking her jacket off; her only accessory was white denim cutoffssplit into a skirt that from a distance resembled a T-shirt tied around herblue-and-gray camo bodysuit. Initially I regretted the slight sexualization ofthe calisthenic dance moves she'd pumped out at Webster Hall. But havinggiggled at how she first bent from the waist in the classic chorus-girlreceiving position and later humped the floor like she had her own penis, Ieventually decided I was being a prude about her playful grinds—not so muchabout sexual display as about what it takes to please an audience she called"the biggest crowd I've ever pulled by myself." We were all togetherand we were all dancing by ourselves. It was only New York City, the nearestAmerica gets to Sweden unless Vermont counts. But she had the U.S. audience shareshe's earned, and every one of us was different.
Robert's Robyn
1. Don't F***ing Tell Me What to Do
2. None of Dem
3. Dancehall Queen
4. Dancing on My Own (Radio Version)
5. Get Myself Together
6. Hang With Me
7. Call Your Girlfriend
8. Stars 4-Ever
9. Indestructible
10. Cry When You Get Older
11. Include Me Out
12. Fembot
13. U Should Know Better
14. Criminal Intent
15. We Dance to the Beat
16. Jag Vet En Dejlig Rosa