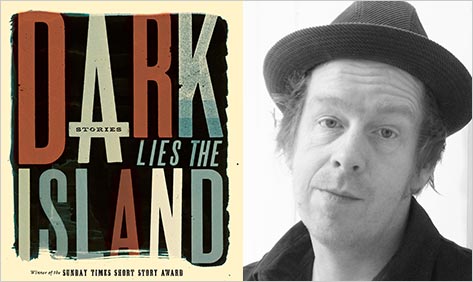 There's a tendency in Irish letters to use the charismatic rhythm of Irish English as a dramatic figure in and of itself. Authors from J. M. Synge to Roddy Doyle have immersed readers in Hibernian slang, a style that would eventually be satirized by humorists like Paul Howard. In his latest collection of short stories, Dark Lies the Island, Kevin Barry — who won acclaim for his Beckettian gangster novel City of Bohane — displays a lighter touch in his approach to colloquial usage, reflecting an island that has undergone significant changes in the last two decades. These stories reveal an outward-looking country, a land of Japanese cars and pilgrimages to Berlin, more a doorway to the European common market than a windswept hinterland. The protagonist of the petty crime caper "White Hitachi" is called upon to "offload three hundred and fifty-nine DVDs," rather than run guns or rob banks. Though the locales and characters are mostly Irish, the pop culture references and technologies are global– as are the malaises of freakish weather and economic inequality.
Even accents converge in Barry's world, a fact acidly remarked upon by the narrator of the uproarious "Wifey Redux," describing the voice of his daughter's boyfriend: "One of those horrible, mid-Atlantic twangs — these kids don't even sound fucking Irish anymore." Barry is happy to show more sides of Ireland than just the raw, hard-edged picture that has been sketched before by authors like Doyle and Patrick McCabe. "Across the Rooftops," the opening story of the collection, recounts a pair of hip Cork city residents — brought together by a shared fondness for Detroit techno — trying and failing to engineer a tryst with one another. Tales like "Wifey Redux" and the eponymous "Dark Lies the Island" paint a picture of a wealthy country, obsessed with material comfort, internet culture and sex. Crime stories, like the aforementioned "White Hitachi" and "The Girls and the Dogs" are struck through with references to crystal meth and New Age experimentation. The rural pub scenes in "Fjords of Killary" were particularly resonant for me; Barry describes a drunken local couple pawing each other while "hoarsely yodeling an Alicia Keys love ballad," a scene identical to one into which I once stumbled while trying to buy whiskey for a younger friend in a remote town called Cloghane. For better or worse, this reminds me more of the countryside where I spent my teens than most other depictions I've read.
The collection is marked by Barry's playful style, whose central tension emerges through its contrast with the atmosphere of his stories' settings. He shows a perceptible love for the conventions of Irish literature without being bound by them, exhibiting a capacity for rhythmic and lyrical prose like Colm Tóibín (a bright sky is "a pure white screech of sun" in "A Cruelty"), along with equal aptitude for Flann O'Brien's deadpan absurdity, describing crows who "stalked about importantly — like fascist birds" in the amiable yet chilling "Ernestine and Kit." The texture of Irish lives portrayed in this collection is familiar and truthful, even when the characters are larger and stranger than life.