The Fobbit author picks three comic favorites from the American South.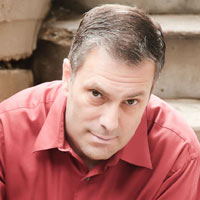 B&N Review contributor David Abrams first conceived of his debut novel, Fobbit, while deployed to Iraq as part of a public affairs team. The Tolkien-esque title refers to an infantryman stationed at a "Forward Operating Base" or FOB; in this case Chance Gooding, Jr., the protagonist of Abrams' wickedly funny dispatch from the cubicle combat zone, a Discover Great New Writers selection. When we asked him to pick three of his favorite books, Abrams responded, "What is it about the American South that makes writers so gol-dang funny? Is it the heat? The sashay-slow pace of life that allows more time for reflection? Something in the grits? Whatever it is, the land below the Mason-Dixon Line has produced some bona fide masters (and mistresses) of wit. Here are three contemporary writers who keep me slapping my knees."
---
By Lewis Nordan
"Nordan, the Clown Prince of Southern Literature, never enjoyed the wide readership he deserved before he passed away earlier this year. I've spent the better part of the last two decades evangelizing for 'Buddy' Nordan, urging friends, associates, and complete strangers to embrace his odd Southern-fried humor. Music of the Swamp, a collection of linked stories, is the best place to start. Narrated by Nordan's alter-ego, 11-year-old Sugar Mecklin, Music of the Swamp is lit by the indirect lamp of nostalgia with most of the stories set in the Mississippi Delta of the 1950s.
"Here's just one sample of Nordan's tender-funny way with words as he describes one of the families who live in Arrow Catcher, Mississippi: 'There was a passel of Conroy children, all red-haired and sunken-cheeked. I was never really sure how many. There were the twin girls, Cloyce and Joyce, children who spoke in unison. There was a misfit child named Jeff Davis who believed his pillow was on fire. And, of course, there was the boy near my age, Roy Dale, and a very young child, about four, named Douglas, whose only ambition when he grew up was to become an apple.'"
---
By George Singleton
"What Lewis Nordan is to Mississippi, George Singleton is to South Carolina. His latest collection of short stories lovingly lampoons the residents of his Confederate-state universe. 'People we get who ain't from around here, they come in thinking they'll be surrounded by the lost and losing. But we're some regular philosophers, when it all boils down,' says one character as he sits at a bar which, by the way, doesn't carry light beers — 'only Budweiser, Pabst, and regular Miller, all in cans.'
"Singleton always seems to have a joke in his back pocket, and he's not afraid to whip it out to use as currency. Sure, his characters border on caricatures, but it is the weird, the off-beat, and the off-kilter that make the worlds of these stories more 'real' than reality. Through hyperbole, we approach the truth; through the weird, we find the sane; and through humor, we get down to the serious business of understanding life."
---
By Clyde Edgerton
"The voice, the voice! Edgerton made his debut with this 1985 novel, and he left an indelible mark with the one-of-a-kind voice of his narrator, the titular Raney Shepherd. She's an ultra-conservative from Listre, North Carolina who has just married the progressive Charles C. Shepherd from big-city Atlanta, the new assistant librarian at Listre Community College. The novel follows the pair on their hilarious odyssey through the first two years, two months, and two days of their marriage.
"Let's eavesdrop on their wedding night when the virginal Raney emerges from the bathroom in her negligee and is horrified to find her new husband standing in the middle of the room in his underwear drinking champagne out of a plastic cup: 'I was planning to do what Mama explained to me: get in the bed and let Charles carry out his duties. And I was thinking that's what Charles would be planning to do. But. He had a different idea which I do not have the nerve to explain. It turned into an argument which finally turned into a sort of Chinese wrestling match with my nerves tore all to pieces. Charles kept saying nothing was in the Bible about what married people could or couldn't do. I finally cried, and Charles said he was sorry. It was awful. I cried again the next morning and Charles said he was sorry again. This may be something I can forgive but I don't think I'll ever forget it. Not for a long time.'"