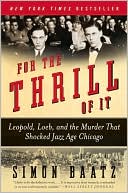 The sentence was delivered in the famous Leopold and Loeb murder trial on this day in 1924. Having convinced teen-aged Nathan Leopold and Richard Loeb to plead guilty to the 'thrill murder' of another Chicago teen, Clarence Darrow managed to get life in prison for his defendants rather than execution. Darrow's closing argument is regarded as one of the finest in his career, and the crime and trial have inspired books, movies, operas and more — reporters, for example. Both criminals were bright, accomplished students, and when Loeb was murdered by a fellow prisoner in 1936 for allegedly making sexual advances, Ed Lahey of the Chicago Daily News offered a lead sentence which has gone down in journalism history: "Richard Loeb, despite his erudition, today ended his sentence with a proposition." In The Story of My Life, Darrow targets the media circus which surrounded the trial, and the lynching mentality: "When the populace clamors for a victim it wants no facts, theories, doctors, lawyers or scientists to stand in the way.… It also feels that "if 't is to be done, 't were well it were done quickly."
The trial was still big news as Richard Wright was writing Native Son, set in Chicago's South Side. Wright's biographers say that he was fascinated with the case, keeping a copy of Darrow's Plea in Defense of Loeb and Leopold on his writing desk. Darrow's argument stressed family and social factors, and though Bigger Thomas is a long way from being a wealthy, advantaged Jew, his lawyer casts the same wide net:
There is guilt in the rage that demands that this man's life be snuffed out quickly! There is fear in the hate and impatience which impels the action of the mob congregated upon the streets beyond that window! All of them — the mob and the mob-masters; the wire-pullers and the frightened; the leaders and their pet vassals — know and feel that their lives are built upon a historical deed of wrong against many people, people from whose lives they have bled their leisure and their luxury!
Wright's newspapermen also get enthusiastic about their opportunities: "This is better than Loeb and Leopold," one says to the other.
---
Daybook is contributed by Steve King, who teaches in the English Department of Memorial University in St. John's, Newfoundland. His literary daybook began as a radio series syndicated nationally in Canada. He can be found online at todayinliterature.com.