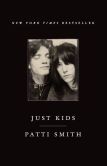 The Altamont Rock Concert took place on this day in 1969. The four deaths, four births, and general mayhem now have iconic status as a cultural tipping point. In her memoir Just Kids, a 2010 National Book Award winner, Patti Smith weaves personal details into the cultural moment with this description of a visit in late summer 1969 to her parents' home in Deptford, New Jersey (Smith and Robert Mapplethorpe at that point having just moved in at the legendary Chelsea Hotel):
The atmosphere at my parents' house was uncharacteristically bleak. My brother was about to enlist in the Navy, and my mother, though intensely patriotic, was distraught at the prospect of Todd being shipped off to Vietnam. My father was deeply disturbed by the My Lai massacre. "Man's inhumanity to man," he would say, quoting Robert Burns. I watched him plant a weeping willow in the backyard. It seemed to symbolize his sorrow for the direction our country had taken.

Later people would say the murder at Altamont Stones concert in December marked the end of the idealism of the sixties. For me it punctuated the duality of the summer of 1969, Woodstock and the Manson cult, our masked ball of confusion.
---
Daybook is contributed by Steve King, who teaches in the English Department of Memorial University in St. John's, Newfoundland. His literary daybook began as a radio series syndicated nationally in Canada. He can be found online at todayinliterature.com.