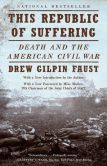 The American Civil War began on this day in 1861 when Confederate forces began firing on Fort Sumter. Over the next four years the death toll would reach 620,000 — a staggering and historic number, says Drew Gilpin Faust in her 2008 bestseller, This Republic of Suffering:
The Civil War's rate of death, its incidence in comparison with the size of the American population, was six times that of World War II. A similar rate, about 2 percent, in the United States today would mean six million fatalities.
These numbers do not include civilians; even if they did, says Faust, mathematical tallies alone cannot reflect how profoundly the nation was shaped by "death's threat, its proximity, and its actuality":
The Civil War matters to us today because it ended slavery and helped to define the meaning of freedom, citizenship, and equality. It established a newly centralized nation-state and launched it on a trajectory of economic expansion and world influence. But for those Americans who lived in and through the Civil War, the texture of the experience, its warp and woof, was the presence of death. At war's end this shared suffering would override persisting differences about the meanings of race, citizenship, and nationhood to establish sacrifice and its memorialization as the ground on which North and South would ultimately reunite. Even in our own time this fundamentally elegiac understanding of the Civil War retains a powerful hold.
---
Daybook is contributed by Steve King, who teaches in the English Department of Memorial University in St. John's, Newfoundland. His literary daybook began as a radio series syndicated nationally in Canada. He can be found online at todayinliterature.com.