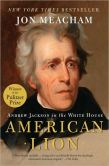 The United States national debt was reduced to zero on this day in 1835, for the first and only time. First incurred during the Revolutionary War, the debt had been in gradual decline since 1816, but its elimination became a special passion for Andrew Jackson when he took over the presidency in 1829. Jackson's speedy accomplishment of his goal drew widespread praise, and some used the opportunity to recall his most famous previous accomplishment — his victory as commander at the decisive Battle of New Orleans, on this day in 1815. "New Orleans and the National Debt," quipped the Washington Globe, "the first of which paid off our scores to our enemies, whilst the latter paid off the last cent to our friends." As noted in American Lion, Jon Meachum's Pulitzer-winning 2008 biography of Jackson, the double liberation offered a good excuse for some partisan puffing:
On Thursday, January 8, 1835, there was a dinner in Washington to celebrate both the anniversary of the Battle of New Orleans [January 8, 1815] and the payment of the national debt — a long-sought, and now achieved, goal of Jackson's. "The national debt is paid!" said [Senator] Thomas Hart Benton in a toast. "Gentlemen, my heart is in this double celebration; and I offer you a sentiment, which, coming direct from my own bosom, will find its response in yours: President Jackson — may the evening of his days be as tranquil and happy for himself as their meridian has been resplendent, glorious, and beneficent for his country.
Meachum notes that Jackson's obsession with Debt Zero was principled: "To him debt was dangerous, for debt put power in the hands of creditors — and if power was in the hands of creditors, it could not be in the hands of the people, where Jackson believed it belonged." But the manner in which Jackson reached his goal immediately triggered catastrophic repercussions — inflation, an uncontrollable speculation market, and, in the spring of 1837, the first great Wall Street crash, followed by years of economic depression, which in turn triggered increased government spending and a quick rise of the national debt. Historians also note that Jackson eliminated the debt only by using the Indian Removal Act of 1830 to force evictions of tens of thousands of Native Americans, their lands then sold to stuff federal coffers.
---
Daybook is contributed by Steve King, who teaches in the English Department of Memorial University in St. John's, Newfoundland. His literary daybook began as a radio series syndicated nationally in Canada. He can be found online at todayinliterature.com.