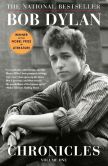 Bob Dylan's first album was released on this day in 1962. One of two original compositions on Bob Dylan is "Song to Woody," a tribute to Woody Guthrie and the musical-political tradition in which the twenty-year-old Dylan saw himself:
…Here's to Cisco an' Sonny an' Leadbelly too,

An' to all the good people that traveled with you.

Here's to the hearts and the hands of the men

That come with the dust and are gone with the wind.
In an early chapter of Chronicles, Dylan describes visiting Guthrie about this time, the folksinger then forcibly confined in an institution outside of New York City, suffering with the hereditary degenerative disease, Huntington's Chorea. Dylan would deliver the Raleigh cigarettes Guthrie liked and then, as variously afflicted mental patients wandered in and out, play some of Guthrie's songs to him — "Dust Bowl Blues" and "Tom Joad," based upon The Grapes of Wrath.
Returning to the time of the first album in the last pages of his book, Dylan backtracks to home-state Minnesota, invoking the names of Roger Maris, F. Scott Fitzgerald, Sinclair Lewis, and other native sons as "North Country" types who "followed their own vision." "Each one of them would have understood what my inarticulate dreams were about," says Dylan. "I felt like I was one of them or all of them put together." The book's final paragraph is a collar turned up to the hard rain on the road ahead:
The folk music scene had been like a paradise that I had to leave, like Adam had to leave the garden. …In a few years' time a shit storm would be unleashed. Things would begin to burn. Bras, draft cards, American flags, bridges, too — everybody would be dreaming of getting it on. The national psyche would change and in a lot of ways it would resemble the Night of the Living Dead. The road out would be treacherous, and I didn't know where it would lead but I followed it anyway. It was a strange world ahead that would unfold, a thunderhead of a world with jagged lightening edges. Many got it wrong and never did get it right. I went straight into it. It was wide open. One thing for sure, not only was it not run by God, but it wasn't run by the devil either.
---
Daybook is contributed by Steve King, who teaches in the English Department of Memorial University in St. John's, Newfoundland. His literary daybook began as a radio series syndicated nationally in Canada. He can be found online at todayinliterature.com.