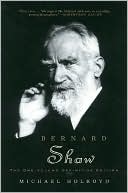 June 11: On this day in 1921 George Bernard Shaw wrote to Sylvia Beach to decline her invitation to pre-order a copy of James Joyce's Ulysses. As she tells the amusing story in her memoir Shakespeare and Company, Beach approached Shaw because he was a fellow Irishman, a kind heart, and one to whom "the revolutionary aspect of Ulysses should appeal." When she told Joyce that she was sure Shaw would sign, he bet a box of cigars against a silk handkerchief that he wouldn't. Joyce got his cigars, and both of them got a laugh out of Shaw's letter:
To you possibly it may appeal as art…but to me it is all hideously real: I have walked those streets and know those shops and have heard and taken part in those conversations. I escaped from them to England at the age of twenty; and forty years later have learnt from the books of Mr. Joyce that Dublin is still what it was, and young men are still driveling in slack-jawed blackguardism just as they were in 1870. It is however, some consolation to find that at last somebody has felt deeply enough about it to face the horror of writing it all down and using his literary genius to force people to face it….

I must add, as the prospectus implies an invitation to purchase, that I am an elderly Irish gentleman, and if you imagine that any Irishman, much less an elderly one, would pay 150 francs for such a book, you little know my countrymen.
Joyce and Shaw got another laugh when Ezra Pound, also drumming up pre-orders, thought he'd pursue the matter with Shaw. Beach says that their correspondence went on for some time, and that "judging by a post card Joyce showed me, Shaw had the last word":
It was a card with a reproduction from a painting of Christ's entombment, with the four Marys in tears around Him. Underneath this picture, Shaw had written; "J.J. being put into his tomb by his editresses after the refusal of G.B.S. to subscribe to Ulysses." Then the question: "Do I have to like everything you like, Ezra? As for me, I take care of the pence and let the Pounds take care of themselves."
---
Daybook is contributed by Steve King, who teaches in the English Department of Memorial University in St. John's, Newfoundland. His literary daybook began as a radio series syndicated nationally in Canada. He can be found online at todayinliterature.com.