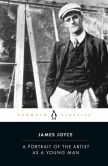 James Joyce's autobiographical A Portrait of the Artist of a Young Man was published on this day in 1916. It was greeted with praise and caution, one reviewer forewarning his readers that this was "an astonishingly powerful and extraordinary dirty study of the upbringing of a young man by Jesuits." The lists of those finding genius and those expressing outrage would swell with the publication of Ulysses, six years later; two years earlier, with the publication of the story collection Dubliners, the scales weighed more heavily on the side of offence. Those offended included young Joyce, exasperated even in exile with the forty publishers who thought his portrayal of his countrymen in Dubliners too inflammatory and risky: "It is not my fault," he wrote to one publisher who had developed cold feet, "that the odour of ashpits and old weeds and offal hangs round my stories."
Below, several of the more famous passages from the final chapter of Portrait, Stephen Dedalus gradually resolving to take flight from Ireland:
When the soul of a man is born in this country there are nets flung at it to hold it back from flight. You talk to me of nationality, language, religion. I shall try to fly by those nets.

I will tell you what I will do and what I will not do. I will not serve that in which I no longer believe, whether it call itself my home, my fatherland, or my church: and I will try to express myself in some mode of life or art as freely as I can and as wholly as I can, using for my defence the only arms I allow myself to use — silence, exile and cunning.

Mother is putting my new secondhand clothes in order. She prays now, she says, that I may learn in my own life and away from home and friends what the heart is and what it feels. Amen. So be it. Welcome, O life, I go to encounter for the millionth time the reality of experience and to forge in the smithy of my soul the uncreated conscience of my race.
---
Daybook is contributed by Steve King, who teaches in the English Department of Memorial University in St. John's, Newfoundland. His literary daybook began as a radio series syndicated nationally in Canada. He can be found online at todayinliterature.com.