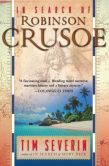 Daniel Defoe's Robinson Crusoe was published on this day in 1719. The author may also have died on this day — his circumstances at the end are obscure, but he passed away sometime between April 24–26, 1731, while separated from his family and hiding from creditors. One letter near the end conveys the despair Defoe felt at his misfortunes, as well as his determination to stay buoyant through the last chapter of his stormy life:
I am so near my Journey's end, and am hastening to the Place where the Weary are at Rest, and where the Wicked cease to trouble; be it that the Passage is rough and the Day Stormy, by what Way soever He please to bring me to the End of it, I desire to finish Life with this temper of Soul in all Cases: Te Deum Laudamus. May you sail the dangerous voyage of Life with a forcing wind, and make the Port of Heaven without a Storm.
Defoe was a survivor of many shipwrecks, most of them caused by his own tempestuous enthusiasms. In business he was a repeated bankrupt and was imprisoned for it; in politics he was a polemicist and spy; in religion he was a Dissenter, imprisoned for that, too. He published over 500 books and pamphlets, from the wildly popular novels to self-help and travel books, from fake memoirs to newspaper reportage to The Political History of the Devil. His friends had "Author of Robinson Crusoe" inscribed on his pauper's gravestone, there not being nearly the room for his original, plot-tease title — The Life and Strange Surprising Adventures of Robinson Crusoe of York, Mariner: who lived Eight and Twenty Years, all alone in an uninhabited Island on the coast of America, near the Mouth of the Great River of Oroonoque; Having been cast on Shore by Shipwreck, wherein all the Men perished but himself. With An Account how he was at last as strangely deliver'd by Pirates. Written by Himself.
The "himself" who inspired Defoe's tale continues to attract debate. Diana Souhami's Selkirk's Island, a Whitbread Award winner, backs Alexander Selkirk, a man with his own set of strange surprising adventures, as the real-life Robinson Crusoe. Katherine Frank's Crusoe makes a case for Robert Knox, another contemporary castaway-adventurer. Tim Severin's In Search of Robinson Crusoegoes island hopping in search of other candidates, finding a handful of interesting possibilities.
---
Daybook is contributed by Steve King, who teaches in the English Department of Memorial University in St. John's, Newfoundland. His literary daybook began as a radio series syndicated nationally in Canada. He can be found online at todayinliterature.com.