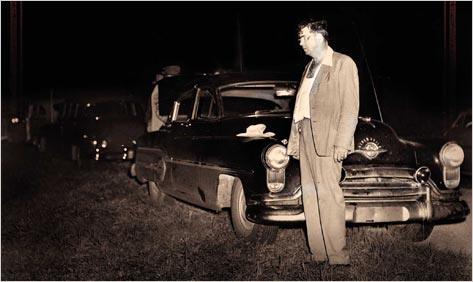 In July 1949, a young white couple, Norma and Willie Padgett, told police that seventeen-year-old Norma had been raped by four black men near Groveland, Florida, setting in motion one of the most dramatic civil rights cases of the twentieth century. Gilbert King's Devil in the Grove: Thurgood Marshall, the Groveland Boys, and the Dawn of a New America recreates an important yet overlooked moment in American history with a chilling, atmospheric narrative that reads more like a Southern Gothic novel than a work of history.



King, author of The Execution of Willie Francis, observes that Florida, despite its "boundless capacity for racial inhumanity," was considered "south of the South"; it had somehow managed to escape the scrutiny of, say, Mississippi or Alabama (site of the similar and better-known Scottsboro Boys case of 1931) despite recording more lynchings than any other state. Within hours of the Padgetts' claim, three suspects — World War II veterans Sam Shepherd and Walter Irvin and teenager Charles Greenlee — were being held for the crime. Hundreds of men stormed the jail, clamoring for a lynching. When the mob was turned away, crowds descended upon black Groveland, shooting into houses and burning down the home of Shepherd's father, who had managed to buy land to farm independently rather than working in the citrus groves, as blacks in rural Lake County were expected to do. A fourth suspect, Ernest Thomas, escaped into the swamps, only to be later caught and killed by a large mob.



"The American justice system was wholly stacked against powerless blacks," King writes, and the bulk of the narrative concerns the appalling twists and turns of the legal case against the defendants, known as the Groveland Boys. Under the brutal interrogation of Lake County sheriff Willis McCall, all three were beaten and whipped until they confessed to the crime. The National Association for the Advancement of Colored People, having monitored the disturbing news reports about the case from the beginning, decided to become directly involved. The defense was handled first by Franklin Williams and eventually by future Supreme Court justice Thurgood Marshall, who was by then already a celebrity known as "Mr. Civil Rights." With the white supremacist Sheriff McCall and the Ku Klux Klan holding a tight grip on the county, Williams, Marshall, and the other black attorneys and reporters who traveled to and from central Florida to work on the case risked their lives to do so.



Williams later described the first trial in unreal terms, as "a story that I was living through," replete with a stiflingly hot courtroom, a judge who whittled cedar sticks throughout the proceedings, and hostile white spectators crowding the benches. To this day it is not at all clear that a rape took place, but the NAACP lawyers had to find ways to defend the Groveland Boys without ever hinting that a white woman, even one known around town as "a bad egg," might be lying. Despite prosecutorial misconduct and extremely weak evidence, the three defendants were quickly found guilty, with Shepherd and Irvin sentenced to death.



The NAACP appealed all the way to the Supreme Court, which in 1951 overturned the convictions and ordered a retrial, calling Florida's discriminatory handling of the case "one of the best examples of one of the worst menaces to American justice." But the case took a nightmarish turn when Sheriff McCall, transporting Shepherd and Irvin from death row to their retrial in Lake County, shot the two men multiple times on a deserted back road, claiming they had tried to escape. Shepherd died instantly, leaving only the wounded Irvin to be represented by Marshall at his retrial. Irvin was promptly convicted and sentenced to death a second time, but after some dramatic maneuvering by Marshall, which included his barging in on a card game between Chief Justice Fred Vinson and President Harry Truman and convincing Vinson to sign a stay of execution, his sentence was eventually commuted by Florida's governor.



There is much that shocks in King's wrenching account, from the small indignities, like the prosecutor mistaking the black lawyers for the defendants, up to the monstrous crimes. These include not just the highly suspicious killing of Shepherd by McCall (who managed to continue what King calls his "reign of terror" as sheriff until 1972, despite forty-nine separate investigations of misconduct charges) but the subsequent murder of Harry Moore, killed along with his wife when their house was bombed. Moore, the first civil rights leader to be assassinated in the United States, was the NAACP's executive secretary in Florida and a tireless advocate on behalf of the Groveland defendants. Nobody was ever charged in the Moores' deaths.



Throughout the book, the author periodically widens his focus to explore the case's broader context, noting that the alleged rape gave McCall and his deputies "an excuse to do some heavy housekeeping with regard to black troublemakers and potential instigators." Their list would have certainly included returning veterans like Shepherd and Irvin and independent farmers like Shepherd's father — all viewed as "uppity" by whites who tolerated blacks in Groveland only so long as they understood their place, providing cheap labor for the white-owned citrus groves.



King also provides insight into Marshall's long-range legal strategy of chipping away at injustice. He fully expected to lose jury trials in the South, but you fought, he explained, "so that you lived to fight another day," by establishing grounds for appeal. Just before arguing the landmark Brown v. Board of Education, Marshall emerges as a heroic figure, facing great risk with courage and gallows humor. King writes that "there is not a Supreme Court justice who served with Marshall or a lawyer who clerked for him that did not hear his renditions, always colorfully told, of the Groveland story." While the case, until now, has been mostly forgotten, Marshall, for good reason, never forgot it.