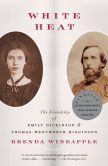 On this day in 1862, thirty-one-year-old Emily Dickinson sent the second of her famous letters to the critic Thomas Wentworth Higginson. In a recent Atlantic Monthly article aimed at aspiring authors, Higginson had recommended a restrained and conventional style, shorn of all "heart-utterances and soul-sentiments." "You do not," says Higginson on the topic of sentence fertilization, "put guano on your garden that your garden may blossom guano." Dickinson's first letter to the critic included a few poems and a brief note asking him to "say if my verse is alive." Her second letter included several more poems and the sort of personal details which have intrigued literary history, all written in her unconventional, guano-free style:
You asked how old I was? I made no verse, but one or two, until this winter, sir.

I had a terror since September, I could tell to none; and so I sing, as the boy does by the burying ground, because I am afraid.

You inquire my books. For poets, I have Keats, and Mr. and Mrs. Browning. For prose, Mr. Ruskin, Sir Thomas Browne, and the Revelations. I went to school, but in your manner of the phrase had no education. When a little girl, I had a friend who taught me Immortality; but venturing too near, himself, he never returned. Soon after my tutor died, and for several years my lexicon was my only companion. Then I found one more, but he was not contented I be his scholar, so he left the land.

You ask of my companions. Hills, sir, and the sundown, and a dog large as myself, that my father bought me. They are better than beings because they know, but do not tell; and the noise in the pool at noon excels my piano.

…Could you tell me how to grow, or is it unconveyed, like melody or witchcraft?
None of Higginson's letters have survived, but whatever "surgery" he recommended was quickly ignored. Dickinson's third letter to him contains her famous disinclination to publish: "My barefoot rank is better."
---
Daybook is contributed by Steve King, who teaches in the English Department of Memorial University in St. John's, Newfoundland. His literary daybook began as a radio series syndicated nationally in Canada. He can be found online at todayinliterature.com.