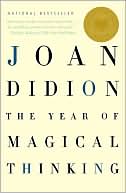 December 5: Joan Didion was born on this day in 1934, and Calvin Trillin was born on this day in 1935. Didion's The Year of Magical Thinking, winner of the 2005 National Book Award, explores the death of her husband; Trillin's About Alice (2006) is a memoir of his wife and their thirty-five-year marriage. Whether approached through its craft or its anguished chronicle, Didion's book has had the highest praise – perhaps the ultimate accolade, John Leonard's comment, "I can't imagine dying without this book." Because Didion uses a wide range of writers and texts to help her frame and reflect, her book has an added dimension for any book lover. References to D. H. Lawrence, Gerard Manley Hopkins, Delmore Schwartz and Dylan Thomas surround the following passage, a let-me-count-the-ways description of grief that features a quotation from C.P. Snow:
I am dropping my keys on the table inside the door before I fully remember. There is no one to hear this news, nowhere to go with the unmade plan, the uncompleted thought. There is no one to agree, disagree, talk back. "I think I am beginning to understand why grief feels like suspense," C. S. Lewis wrote after the death of his wife. "It comes from the frustration of so many impulses that had become habitual. Thought after thought, feeling after feeling, action after action, had H. for their object. Now their target is gone. I keep on through habit fitting an arrow to the string, then I remember and have to lay the bow down. So many roads lead thought to H. I set out on one of them. But now there's an impassable frontierpost across it. So many roads once; now so many cul de sacs."
Trillin's book is in a different key, and partly motivated by his desire to set the record straight. Having incorporated Alice's "sitcom persona" into many earlier articles, he now wanted to complete and correct his portrait. But the depth of their marriage shines from almost any passage of the sitcom writing, too. The following is from the final paragraph of Travels with Alice; at this point, Trillin and his wife are winding up their two-week holiday in Italy, where even the street merchants can recognize class and amore:
Just then we reached the stand where we had tried a mangostana a couple of weeks before, and decided to have one for the road. The same vendor picked one out for us, but when I reached for my wallet, he held up his hand and shook his head. He handed the fruit to Alice, with a smile and a slight bow. "Omaggio," he said. The word means not just "homage" but also "complimentary offering." Either way, it must be the sort of gesture that's made to principessas and contessas all the time.