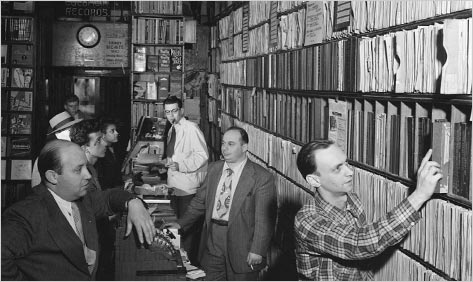 It didn't take me long after I first got into Delta blues — the most fatalistic, gutting, hopeful music I know — to think, "Oh dear, we have a problem here." I'd encounter one master of the medium after another on a label like Yazoo or Document. Reading up on that master I'd see they were influenced by some other, lesser-known master, who in turn learned a lot of what he did from some guy who recorded all of four sides. Down the rabbit hole I went.
Amanda Petrusich's Do Not Sell at Any Price won't give you a master class in those recordings of the 1920s through the 1940s, although it will provide plenty of tidbits to start you on your way. If ever there was a paean to this particular rabbit hole, here it is. The title refers to the fervor that marks the dogged collector of blues 78s and the need to obtain — at flea markets, estate sales, antique stores, and beyond — coveted recordings. If you know what a 78 is, you're either into blues and early jazz, or of a certain vintage yourself. Before there were 45s (singles) and LPs (albums) there were 78s, and as the collecting maxim goes, if it was made to be collectable, it ain't collectable. These were pressings meant to be enjoyed in their time — danced to, juked to, drank to — but they weren't built to last, and they didn't. They can now be worth a mint, both in terms of cash and the glory of owning an all-time coveted recording.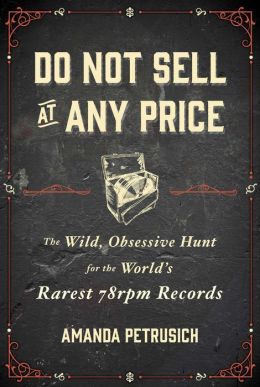 The book does for 78 collectors what ComicCon profiles do for sci-fi aficionados: reveal them in all of their wild quirks, glories, and eccentricities. Petrusich writes well even when she's not discussing her principal subject matter; the way she describes kitting herself out to go a-collecting with a perfervid blues-obsessed scholar is chatty and convivial enough to suck you in. But man, these characters she hangs out with. There is, for instance, John Heneghan, a man with a reoccurring dream of blues legend Skip James, and who, having assembled one of the world's top 78 collections, spends his time daydreaming on how to best organize it. There is a fascinating account of the legendary Paramount label in Chicago and producer Orlando Marsh. The label was next to the elevated train tracks, and conditions were generally horrible — mice were known to scurry across the masters — but many a classic was born here or at Paramount's successor studio in Grafton, Wisconsin. "Between 1929 and 1932, a slew of scout-recruited blues singers, including blues giants like Son House and Skip James, trekked to the Grafton studios from small towns in the South," Petrusich writes, and you get the sense that there was something Odyssean going on here, worth hunting for: history lost and found at any cost.
At one point, Petrusich even learns to scuba dive so she can hunt the bottom of the Milwaukee River — there is even a paid guide for this — in the pursuit of a "pile of old, brittle records" that were supposedly dumped there. Nuts, right? And, let's face it: pretty damn cool. Keep a notebook handy, because you're going to want to jot down recordings you absolutely need to seek out in your cleaner, digitized world. Neophytes and diehards will come to quibble over their own favorites while reading along, so in that spirit, here's a top ten list of 78s to get you started, with an emphasis on musical merit. Any of these could set you back either a few paychecks, a few hundred hours of searching, or a few heartbeats upon encountering one of them.
10. "Big Leg Blues" — Mississippi John Hurt (1928)
Hurt ought to be better known, and better revered, as one of the half dozen or so top bluesmen, but whereas the canon seems to prefer musicians who shout, throttle, moan, and declaim with locomotive rhythm — Hurt was more of an easy roller. He was also funny as all get-up, and let's just say that his "big leg" is the stuff of comic innuendo.
9. "Sitting on Top of the World" — Mississippi Shieks (1930)
Dylan loved them, and the Shieks are easy to fall for. Rarely, if ever, has a fiddle done so much to bolster the blues. Their sound is more pinched than any of their contemporaries', but that just seems to help it flow through you faster.
8. "Parchman Farm Blues" — Bukka White (1940)
This cut's fabled farm became a crucial part of blues iconography, so much so that English blues bands and sundry heavy metal acts in the mid- and late 1960s began referencing it. (You need to hear Blue Cheer's version; one tape comp billed them as "Louder than God!" in part because of it.) White's version features bravura vibrato, as if his very soul is reeling side to side while it tumbles out of his mouth.
7. "When the Levee Breaks" — Kansas Joe and Memphis Minnie (1929)
So that's where Zeppelin got that one from. Actually, you're apt to find yourself saying that a lot as you listen to this stuff. In this case: Kansas Joe was the husband, Memphis Minnie the superior talent. You would not wish to get on the wrong side of her ax, a.k.a. guitar. Hendrix sounds like he picked up a thing or two from her playing.
6. "Alcohol and Jake Blues" / Riding Horse" — Tommy Johnson (1930)
Exactly one copy of this is known to exist on 78, and it went for more than what many people make in a year. So powerful as to be disorienting, this twofer is something you'd suggest to a visiting extraterrestrial, to show what the music of that time could be at its most viscerally intense.
5. "Gimme a Pig Foot" — Bessie Smith (1933)
The titular directive sounds like a lusty call from on high. Something elemental, and decidedly un-foodie, so take your snapshots of your ritzy supper elsewhere. Possessing one of the great voices in human history, Smith often sounds likewise possessed by demonic genius.
4. "Future Blues" — Willie Brown (1930)
Brown recorded six sides — no más, collectors — in a single Grafton, Wisconsin session. Coming from an emissary between Son House and Robert Johnson (who both loved him), "Future Blues" is at the level of their best work. Brown married at the age of ten or eleven, which means he came by some of life's elixirs earlier than most of us. Here, "future" might as well mean past, present, and forevermore. Not a lot of recordings have a way of stitching up the interstices of time and space. This is one of them.
3. "Dark Was the Night — Cold Was the Ground" — Blind Willie Johnson (1927)
Cut at Christmastime; you have to wonder what Johnson's holiday was like. No one has ever sung like this — a songbird one moment, and a bucket of mixing cement the next, this is Elvis- or McCartney-caliber range with as much pain — and strength — as the blues ever offered. Proof that heroism is endurance for one moment more.
2. "Me and the Devil Blues" — Robert Johnson (1937)
If Bulgakov, "Sympathy for the Devil," Là-Bas, and "The Devil and Daniel Webster" got together, at a Delta crossroads and resolved to make a Faustian pact, you'd have something like this as a result. The bit where Johnson sings "Why hello, Satan," as easy as remarking, "Why, yes I'd like a cup of coffee," slays me every time I hear it. You don't want to be living in that world. Unless, of course, it's leading you to make music like this.
1. "Black Mama Blues" — Son House (1930)
78s don't get much rarer than this and manage to still exist. More commonly known as "Death Letter," this is a short story few writers could ever write. There is a Dear John letter unlike any other, a cooling board (rarely a happy thing), and the reminder that loss can be worse when the person you're loving is out in the world rather than dead. That's some kind of blues, baby.