Celebrations of a special relationship.
---
By Julie Klam
The subtitle — "How Saving a Dog Can Sometimes Help You Save Yourself" says it all. The author of the bestselling You Had Me at Woof, Julie Klam focuses here on the world of rescued dogs. Offering true stories culled from adopters around the country, Klam balances sentiment with humor and clear-eyed reporting as she sheds light on the process that abandoned and mistreated mutts go through after being saved — and the astonishing changes these new companions can affect in the lives of those who take them in.
---
By Jeffrey Moussaieff Masson and Art Wolfe
No other cross-species relationship is as strong as the one between dogs and humans. That ancient, mysterious connection — and what it's meant to both parties — is intimately explored in this new collection of 100 photographs taken on every continent by Wolfe and accompanied by the words bestselling writer Jeffrey Moussaieff Masson, who has made the study of animal emotions his life's work.
---
By Jon Katz
Jon Katz — whose bestselling books have chronicled in detail the joys and struggles of raising dogs — recounts a frigid winter on his 42 acres in upstate New York with his wife and an overstuffed menagerie of dogs, sheep, and donkeys. There's wry humor prompted by the adventures that inadvertently result, but also a skein of absorbing reflections in the spirit of Thoreau. None of which upstages the central role of Katz's lovable, loyal canine companions.
---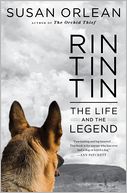 Rin Tin Tin: The Life and the Legend
By Susan Orlean
Corporal Lee Duncan, once an orphan, discovered fellow castoff Rin Tin Tin on a World War I battlefield in 1918 and brought him back to America, where he made the dog a Hollywood icon that still resonates deeply. Blending comprehensive research with penetrating thought into the meanings of the myths we create, Susan Orlean (The Orchid Thief) expertly expounds on the German shepherd's rise as well as the ascendance of entertainment and celebrity in American culture.
---
By David Wroblewski
In one of the most inventive retellings of Shakespeare ever put to paper, David Wroblewski introduces an unlikely Hamlet: a voiceless boy, living on a Wisconsin farm, where a breed of highly intelligent dogs is raised by his family. When the murder of his father shatters his familiar world, young Edgar flies into the surrounding wilderness, accompanied by three faithful yearling pups. The result is a daring, risky, and completely captivating novel, with the bond between boy and dogs is at its heart.