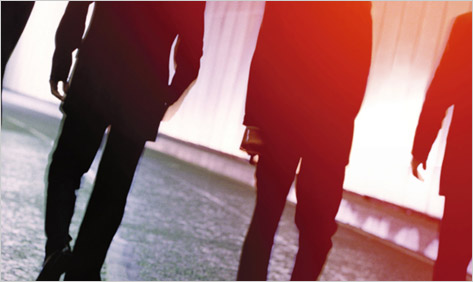 Light and lucre; penthouse and investment-grade art: with a sweep of his pen, Ian Rankin has whisked away the crepuscular gloom of his best-known character, the now-retired Detective Inspector John Rebus, and replaced it with the meridian vigor of 37-year-old Mike Mackenzie, onetime software mogul, now multimillionaire. Mike first appeared in a shorter, serialized version of this novel in the New York Times Magazine, his cappuccino-bibbing, ciabatta-nibbling, sartorially smart way of life a perfect match for its pages.
At loose ends since he sold his share of a fantastically successful software company, Mike wears his wealth insouciantly. He has dumped the Lamborghini and the Ferrari and drives a second-hand Maserati Quattroporte bought from the want ads. That's Mike. Still, he has gone deep into art collection, though of course buying only works that he likes — which, Rankin being Rankin, tend to be Scottish and, Mike being Mike, astutely chosen. All the same, our man's been moping in an upscale sort of way: his robust financial portfolio and an ultra-modern aerie hung with appreciating investments have lost their savor. He whiles away his time frequenting auctions and openings, striking up friendships with other art lovers. One such is Laura Stanton, a tall, auburn-haired art auctioneer with whom Mike has had one unsuccessful date and for whom he pines. Another is Allan Cruikshank, "expensively divorced," but wedded to his cell phone as he pursues his lot in life as an investment banker specializing in HNWs, "High Net Worth individuals." Allan would dearly love to possess even one work of art comparable to those in the troves held by his clients or even his bank, which has socked away such a stash of valuable art that it employs its own curator. It is through Allan that Mike has made the acquaintance of Robert Gissing, head of the city's School of Art, a dome-headed, corduroy-clothed, boom-voiced promoter of the idea that art should be set free, liberated from the hidden vaults and private spaces of the rich and privileged.
But Robert has more to offer than mere bombast. He has cooked up a scheme, intricate and ingenious, for a daring, daylight art heist. If successful, it will provide Allan with his treasure and himself with the means to a happy retirement. More to the point it will provide Mike with a revitalizing shot of adventure and propel this well-heeled hero, this anti-Rebus, into the other Edinburgh, the dark world of tattooed enforcers and organized crime, homegrown and imported.
Key to the plan is paying for the services of an art student and pothead, Hugh Westwater, an anti-authoritarian poser, mediocre in artistic vision, but talented in the craft of pastiche — or, as circumstances demand, forgery. Mike agrees to bankroll the job, but there is an element missing and that is guns, not real ones, for this is a peaceable crowd, but convincing replicas. Luckily, or so it would seem, Mike stumbles into a reacquaintance with Chib Calloway, a notorious Edinburgh crime boss, shaven-headed and flanked by goons, who once went to the same school as Mike did back in the day. Chib, who has troubles of his own, and needs some fast money, climbs on board with promises to provide not only guns, but a few young thugs to wield them persuasively, and some getaway wheels.
Meanwhile, another figure is working these pages, Detective Inspector Ransome of the Lothian and Borders police. He is obsessed with Chib Calloway, having lost an early criminal case against him, outfoxed by his expensive lawyer. The memory is raw and humiliating, the lawyer "smug and ruddy-cheeked in his wig; and Chib Calloway braying in the dock, wagging a finger at Ramsome as the young detective sloped from the witness box." Ransome, neglecting his other duties to tail the gangster, wants personally to put him behind bars, and so stumbles upon the man's dealings with Mike. This unfortunate, unanticipated circumstance, however, is as nothing compared to the havoc being assembled for the future by Hugh Westwater, who simply can't resist a little artistic transgression in the construction of an otherwise perfect forgery. It turns out that international criminals aren't so amused by his postmodern high jinks. Add to this, dopey Hugh's grasping girl friend who displays an insatiable appetite for extortion and blackmail, and to that, some other rotten dealings that cannot even be hinted at. With this you have the makings of a great deal more than Mike Mackenzie had bargained for, astute dealer though he may be.
You will have to decide whether you believe this heist is feasible and, if it isn't, whether you care. The novel is essentially an entertaining caper: exciting, suspenseful, and very amusing. Rankin, always possessed of a sharp eye for pretension, exercises it here with nice touches, making the odiousness of the upscaling of the town a constant theme. Here is Chib — really a rather likable gangster in his own unreliable way — in a chic restaurant, "sitting down…and grabbing at his napkin before one of the waiting staff could unfurl it and start laying it across his groin." Throughout, Rankin plays deftly with his own preoccupation, the duality of Edinburgh, its Old Town and New, its history and its present, its opposites, rivalries, and adversaries. There are "two Edinburghs sharing a single nervous system," Mike tells Allan, and he later reflects, in the midst of his trials, that this is "the very city that had spawned Dr. Jekyll and Mr. Hyde. Once again — and surely not for the last time — Edinburgh is Rankin's real protagonist.