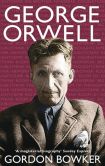 Eric Blair was born on this day in 1903, becoming "George Orwell" with the publication of his first book, Down and Out in Paris and London (1933). Down and Out describes several years of "tramping" among the big city poor, this idea taken from Jack London's People of the Abyss, based on a similar experiment. Recently returned from his disillusioning years working for the British Imperial Police in Burma, Orwell was clearly on the side of the oppressed and marginalized, but his book is in the straight-ahead journalistic style. The first few chapters set the scene in Paris, describing a gallery of characters living in Orwell's flophouse or those nearby—the drunks and dwarfs, the theology student who sewed shoes, the Roumanian "who had a glass eye and would not admit it," the old rag-merchant "who used to copy his signature from a slip of paper he carried in his pocket," others who had somehow "fallen into solitary, half-mad grooves of life and given up trying to be normal or decent." But then, in Chapter Three, after being robbed of all but a few francs, Orwell must make room in his down-and-out gallery for a self-portrait:
It is altogether curious, your first contact with poverty. You have thought so much about poverty — it is the thing you have feared all your life, the thing you knew would happen to you sooner or later; and it is all so utterly and prosaically different. You thought it would be quite simple; it is extraordinarily complicated. You thought it would be terrible; it is merely squalid and boring. It is the peculiar lowness of poverty that you discover first; the shifts that it puts you to, the complicated meanness, the crust-wiping.
Seven books later, in his 1946 essay "Why I Write," Orwell gives this summary of his career objective: "What I have most wanted to do throughout the past ten years is to make political writing into an art." Most of the intervening books explored other down-and-out groups and themes, and made clear Orwell's prevailing skepticism:
Political language — and with variations this is true of all political parties, from Conservatives to Anarchists—is designed to make lies sound truthful and murder respectable, and to give an appearance of solidity to pure wind ("Politics and the English Language,"1946).
---
Daybook is contributed by Steve King, who teaches in the English Department of Memorial University in St. John's, Newfoundland. His literary daybook began as a radio series syndicated nationally in Canada. He can be found online at todayinliterature.com.