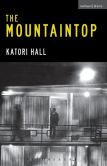 Martin Luther King Jr. was murdered in Memphis on this day in 1968. King's death is closely connected to his speeches, not just the famous and prophetic "Mountaintop" address the evening before his assassination but also the controversial "A Time to Break Silence," his protest against the war in Vietnam delivered on this day in 1967. Many thought that King's speaking out against the rapidly escalating war was a wrong turn for the civil rights movement, a politicization of what was essentially a social and moral issue. Some also saw the speech as self-destructive in that it offered new, political ammunition to those who already wanted King dead for racial reasons.

Katori Hall's play The Mountaintop, 2010 winner of England's prestigious Olivier Award, uses King's gift for speechmaking to shape a more personal and human tragedy, one fueled by hubris. In the last few hours of his life, spent at the motel where he will be murdered, Hall's hero flirts a little, smokes a lot, and speaks forcefully about his mission-driven visions and powers:
But who is a man who does not speak his mind? He is not a man, but I am a man. I AM A MAN! If only they would see that love, love is the most radical weapon of destruction there is. Sweet radical love. But they don't get it. Instead they have call me every name in the book except a child of God. Even my own men: "You splittin' the movement, Martin, you splittin' the movement! You can't focus on war, and poverty, and Negroes. Choose one!! But I could not, will not choose….
The only audience for these declarations is the motel maid, who feels forced to reveal that she is in fact an angel sent to escort King down from these heights and onto the balcony where he will be shot. But first she must get King to concede that "It ain't all about you!":
You done brought us far. But you a man. You just a man, baby. You're not God, though some folk'll say you got mighty close.… But you gone have to pass off that baton, little man. You in a relay race, albeit the fastest runner we done ever seen't. But you 'bout to burn out, superstar. You gone need to pass off that baton….
---
Daybook is contributed by Steve King, who teaches in the English Department of Memorial University in St. John's, Newfoundland. His literary daybook began as a radio series syndicated nationally in Canada. He can be found online at todayinliterature.com.