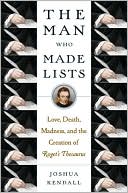 April 29: The first edition of Roget's Thesaurus was published on this day in 1852. Dr. Peter Roget was a physician by profession but a polymath in practice, and a co-founder of the Society for the Diffusion of Useful Knowledge. His general inquisitiveness and his Victorian faith in social and personal improvement led him to publish learned articles on sewer sanitation, magnetism, bees, geology, and how the knight might be moved to every square on the chess board. His "log-log" is regarded as a first step to the slide-rule, and his curiosity about the optical effects of passing carriage wheels when viewed through his Venetian blind led to the Zoetrope.
In this spirit, he began compiling his Thesaurus as a personal aid. Having used it as such for decades, he decided to publish his book with the hope that the "repertory of which I had myself experienced the advantage might, when amplified, prove useful to others." First reception was mixed, some doubting that any sort of word-patching could fix a leaky sentence, or a lifetime of insufficient reading and writing. The following is from an 1854 review by Edwin Whipple:
We congratulate that large, respectable, inexpressive and unexpressed class of thinkers, who are continually complaining of the barrenness of their vocabulary as compared with the affluence of their ideas, on the appearance of Dr. Roget's volume. If it does nothing else, it will bring a popular theory of verbal expression to the test; and if that theory be correct, we count upon witnessing a mob of mute Miltons and Bacons, and speechless Chathams and Burkes crowding and tramping into print. Dr. Roget, for a moderate fee, prescribes the verbal medicine which will relieve the congestion of their thoughts. All the tools and implements employed by all the poets and philosophers of England can be obtained at his shop…. [They will] tempt unthinking and unimpassioned mediocrity into the delusion, that its disconnected glimpses of truths never fairly grasped, and its faint movements of embryo aspirations which never broke their shell, can be worded by his specifics into creative thought and passion.
---
Daybook is contributed by Steve King, who teaches in the English Department of Memorial University in St. John's, Newfoundland. His literary daybook began as a radio series syndicated nationally in Canada. He can be found online at todayinliterature.com.