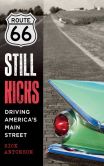 U.S. Route 66, running between Chicago and Los Angeles since 1926, was officially closed on this day in 1985. Unable to compete with the new interstates and a myriad of bypass alternatives, the mythic "mother road" of John Steinbeck's Grapes of Wrath was America's first paved highway. Starved of traffic and prohibited by the Highway Beautification Act from advertising their businesses on the interstates, some of the smaller communities along the original route had dwindled and died, though many survived long enough to benefit from the more recent revival efforts. The National Route 66 Preservation Bill (1999), a listing on the World Monuments Fund (2008), and the formation of many local restoration groups along the eight-state route have now turned many stretches of the original two-lane into a tourist-friendly history lesson.

Rick Antonson's Route 66 Still Kicks (2012) is an affirmation of the old road and its place in the enduring national narrative:
Route 66 was once — and it is again today — one long, rambling sentence that describes America, with Chicago its capitalized start and Los Angeles its ending period. The dashes in the sentence are cities such as St. Louis, Oklahoma City, and Albuquerque; its necessary commas are spots such as Joliet, Commerce, Depew, and Santa Fe. And then there's the rest — let's say McLean, St. Clair, Arcadia, Gallup — places where we pause to catch our breath in the story.
Although traveling in a rented Mustang convertible rather than the Corvette of TV series fame, Antonson and a friend explore the whole "2,400-mile Declaration of Independence." As often as possible, the two seek out the road's most forgotten stretches — miles now "ignored and abandoned, unpaved and unhappy," towns still reminiscent of "pioneers and provenance." Having endorsed Emerson's principle that "a good traveler has no fixed plans and is not intent on arriving," journey's end finds them reaching only the conclusion that "Route 66 still kicks. As does America":
If, as the truck driver told me years ago, "You'll never understand America until you've driven Route 66 — that's old Route 66 — all the way," is it a corollary that once you've driven this sliver of road, you do understand America? I think not — not fully — but you are given tantalizing hints, clues, and suggestions. Traveling Route 66 is not about understanding America; it is about contemplating America. The difference is vast. America is not to be understood.
---
Daybook is contributed by Steve King, who teaches in the English Department of Memorial University in St. John's, Newfoundland. His literary daybook began as a radio series syndicated nationally in Canada. He can be found online at todayinliterature.com.