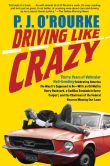 The American satirist P. J. O'Rourke was born on this day in 1947. In Driving Like Crazy, O'Rourke notes that America has become "vehicular purgatory" — a place where those "who've committed the sin of lust for fast cars" must "suffer the penance of having nowhere to go fast." The only fair (ab)solution, argues O'Rourke, is "a linear national park":
What I propose is a linear national park. We need a road, or network of roads, where we can drive the way we'll be allowed to drive in heaven after we succumb to apoplexy caused by being stuck for six hours on I-95 when a Prius full of vegans swerves in front of a livestock truck and an oil tanker, causing America's least wanted barbecue to be hosted at the off-ramp to the Washington beltway.… The chosen roads would be the less used and most skill demanding — not to say death defying. Upon these designated rights-of-way all the usual traffic laws would apply except there would be no speed limits. The grizzly gawkers, hiking trail sloggers, trout pesterers, and such all have their federally mandated paradises. Now we'd have ours.
---
Daybook is contributed by Steve King, who teaches in the English Department of Memorial University in St. John's, Newfoundland. His literary daybook began as a radio series syndicated nationally in Canada. He can be found online at todayinliterature.com.