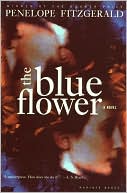 April 28: Penelope Fitzgerald died on this day in 2000, aged eighty-three. Her career as a writer of fiction began at age sixty-one, and at full speed: her first novel, The Bookshop was shortlisted for the Booker Prize, and her second, Offshore, won it. Many regard The Blue Flower, chosen 1995 Book of the Year by many publications, as her best book and best proof of this praise from the British novelist and critic Sebastian Faulks:
Reading a Penelope Fitzgerald novel is like being taken for a ride in a peculiar kind of car. Everything is of top quality—the engine, the coachwork and the interior all fill you with confidence. Then, after a mile or so, someone throws the steering-wheel out of the window….
Although Fitzgerald did not write an extended memoir, there are several autobiographical pieces included in The Afterlife, a 2003 collection of essays and reviews, which make you wish she had. The following excerpt is from "Well Walk," a recollection of the childhood years lived at No. 34 Well Walk, Hampstead—next door to where D. H. Lawrence once lived, Fitzgerald notes, and a few doors away from where John Keats and his brother Tom once lived:
Our beloved coal fires, of course, polluted London and clouded its skies, but they made incomparable toast, and on late-winter afternoons (when the fifth post of the day arrived through the letterbox) they created a glowing illusion of security and peace that can never be recovered. And if you were thought to be poorly, you might have the fire lit in your bedroom. Then, as you dropped off to sleep, it would throw a changing shadow play across the reflection of its broad golden light on the ceiling. By morning, it had died down, but there was still a breath of warmth left in the room. I used to get dressed under the bedclothes and make (like a seal under ice) a small clear patch to look through on the frosty window. Our neighbors, a husband and wife who were retired missionaries, might be venturing out onto the glassy pavement with their knitted socks over their boots. This was the way they had managed, I was told, in Tibet.
---
Daybook is contributed by Steve King, who teaches in the English Department of Memorial University in St. John's, Newfoundland. His literary daybook began as a radio series syndicated nationally in Canada. He can be found online at todayinliterature.com.